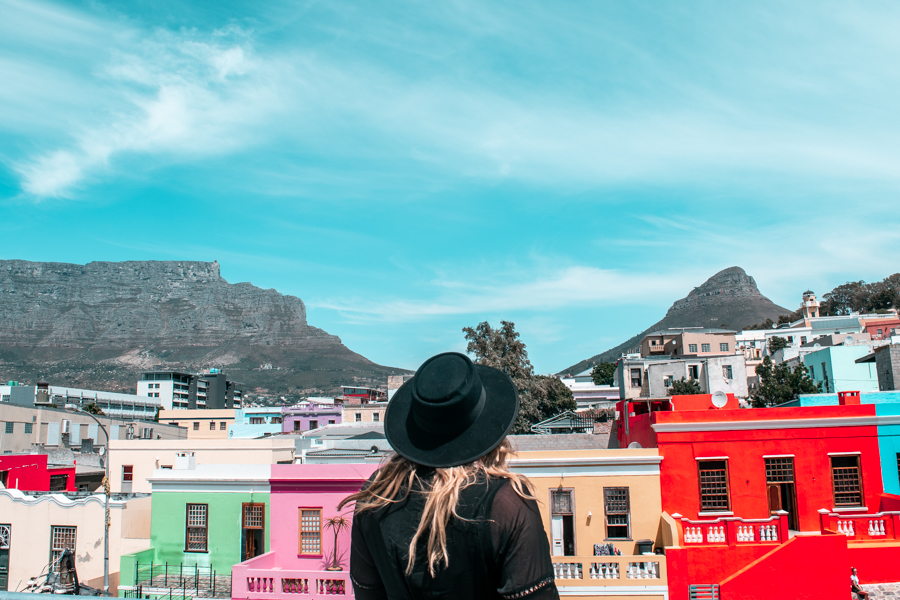 The Most Colorful Places Around The World You've Got To Visit
Some of us tend to look at the world with rose-tinted glasses, kind of unaware that there are REAL places on the planet that are proof that life is as colorful as we want it to be!
Everyone loves colors, and more so when they are combined with trips to beautiful destinations. Of course with a camera in hand!
Here is a list of some of the most colorful places around the world. Ready to be included on your travel bucket list!
The Most Colorful Places in The World
Jodipan, Malang, Indonesia
The island of Java in Indonesia is known for its striking volcanoes, but there's a little gem in the city of Malang that most people don't know about!
Jodipan, also dubbed "Java's Rainbow Village " is a magical group of houses painted in all colors of the rainbow. Think artful wall murals and colorful umbrellas of all shapes and sizes hanging on every corner. Jodipan wasn't always as lively and colorful. It was actually once considered a slum, but a group of students decided to splash colors all over to attract visitors!
Bo Kaap, Cape Town, South Africa
Cape Town is the place to go to when it comes to instagrammable spots. There's probably nothing in the world missing in Cape Town, from sky-high mountains to crashing sea waves and all kinds of amazing wildlife.
As for colorful places, Bo Kaap neighborhood is just that. Set on the slopes of Signal Hill, it is also the historical center of Cape Malay culture in Cape Town.
Read Next:
What To Pack For South Africa? Here's The Ultimate South Africa Packing List
The Ultimate Safari At Gondwana Game Reserve In South Africa
Top Wineries In Stellenbosch, South Africa
24 Photos To Inspire You To Visit South Africa
Top Things To Do In Cape Town For First-Timers
Willemstad, Curaçao
Willemstad is the capital of Curaçao in the Netherlands Antilles. This almost indescribably picturesque seaside spot is about as colorful as it gets! Streets lined by houses and eateries painted in vivid bright colors, backdropped by Caribbean beaches and turquoise waters, with street art plastered over the place make Willemstad pretty much a photographers' dream come true!
Read next: Top 10 Things to do in Curaçao
Dallol, Ethiopia
Looking for adventure? Dallol doesn't boast bright-colored buildings, because almost nothing can really survive here. What it lacks in life, it makes up for with a mind-boggling landscape full of stunning colors reminiscent of a different planet!
This rare and fascinating location in Ethiopia is a cinder cone volcano. Its hot springs in the middle of the desert make for an eerie unearthly spot. It is also the hottest place on the planet!
Guanajuato, Mexico
Mexico is famous for its love for all things colorful, so at least one of its magical towns had to make it to this list. Guanajuato is one of many pretty colonial towns in Mexico. Rumor has it that it's the most beautiful one of them all!
Guanajuato means "Place of Frogs" in the local indigenous language. The whole city was built on hills. Visitors get awesome vistas of the colorful landmarks and houses from any spot in town!
Once you get your fill of the vivid colors, you can also go underground. Guanajuato has a network of underground tunnels that serve as roads, which makes the city an incredibly unique place to visit!
Read next: The Best Destinations in Mexico For Culture and Colors
The Nubian villages of Aswan, Egypt
Close to the city of Aswan, in southern Egypt, lies one of the quaintest sites on earth. It's almost as walking on a rainbow, but with two hundred more shades!
Nubian villages are scattered all over Sudan and southern Egypt. The most popular ones are undoubtedly found close to Aswan. It can be reached by a breathtaking two-hour boat trip on the Nile River. An easy day trip to these fantastic corners of the world which should be included in any Egypt itinerary! Even though most people visit the country because of the pyramids, the fascinating Nubian culture alone is definitely worth a visit!
Chefchaouen, Morocco
Chefchaouen is another destination that MUST be on your travel bucket list if you're the creative type! Nestled deep in the Atlas Mountains in northern Morocco, this amazing town is famous for its blue-shaded medina.
The exact story behind Chefchaouen's blue-shaded walls is not quite clear. Some people say it is because blue keeps mosquitoes away. A more poetic theory is that the color blue symbolizes the sky, making it an everyday reminder to lead a more spiritual life.
Burano, Italy
While Italy is a dream destination for all travelers because of its TONS of colorful villages, Burano is easily a favorite one! Burano is an island set on a lagoon, making it quite special. It is an easy day trip from Venice, which makes it very accessible.
This picturesque village is known for its quaint fishermen's houses. It's also a joy for seafood lovers, with its many beautiful, but casual eateries that serve fresh seafood from the lagoon.
Provence, France
Provence is a very popular tourist destination in the Cote D'Azur region in France. While most visitors are attracted there for the beaches, in June the town becomes a wonderland of lavender shades when lavender fields decorate the outskirts of the region with and fill the landscape with varied purple hues.
Vincent Van Gogh spent quite some time here, by the way!
Rainbow Mountain, Peru
As crazy as this might seem, only a few years ago no one knew this place existed! The mountain's colored shades were hidden under very thick layers of snow for centuries until it slowly melted and revealed its multicolors in 2015!
Today, Rainbow Mountain is a must for all travelers in Peru. Its shades of yellow, orange and red have become quite an Instagram sensation. Keep in mind that the altitude kind of sucks, so come prepared.