I bought an RV!
OMG, I bought my first RV! I've always wanted an RV since I was little. Call me crazy, but I think I think I was always meant to be an entrepreneur. Even at 12 years old I wanted to travel the world in an RV with my family. Some would say I manifested it.
When covid hit and we went into quarantine, travel shut down. As a travel blogger that was tough for me. Once things started lifting, I decided to go look at RVs. My husband was not into it at first but came along to make me happy. He said, "As long as you don't buy one on the spot" he would come. He knows me so well. ADHD causes impulse purchases and it's totally something I would have done. We packed up the fam and went to explore an RV lot for the first time. Eeeek!
RV Shopping
It's a hot market and it's gotten even more competitive. Prices have gone up as Covid restrictions have increased. It's pretty hard to find an RV dealership packed full of RVs. Slim pickings for sure. It's hard to find an RV these days. The one I ended up purchasing had to be driven from Ohio to Georgia because there were no dealerships in GA that had it.
We went to a few RV dealerships and walked through several models. An A-class, C class, and fifth wheels. They're all so different. Each brand is different, and even within the same brand and same model, the layout can be different or they'll be different sizes. I knew absolutely nothing about RVs and neither did my husband.
We took notes on things that we liked and weighed the pros and cons of each type of RV. We started thinking about how we wanted to travel. If we wanted to tow a travel trailer or tow a car behind our RV. If we even needed a car where we were going or could we rent one. How many people did we want it to be able to sleep? How many feet long were we comfortable with? We did research on the resell value and how well they were made and Jayco was always a leader in all categories.
A Class
We didn't like the A-class because it felt like a bus and there weren't a ton of sleeping areas in the ones we looked at. It looked like an amazing option for retirees but wasn't functional for what we were looking for. As first-time RV owners, the A-class was a bit longer than what we needed as well.
Travel Trailers + Fifth Wheels
In other words a tow behind. We didn't opt for a fifth wheel because we didn't want to purchase another vehicle to tow it. Plus, I don't really understand the appeal unless you get a 41-footer with multiple bedrooms. A lot of the ones we looked at were small one-bedrooms, which didn't suit our needs. I wanted an RV so I could travel comfortably. Work while on the road. Not have to stop for bathroom breaks or diaper changes etc.
In a fifth wheel, you're just traveling in the car, like a normal road trip. That didn't sound exciting to me. From a safety perspective, I didn't love that everyone would have to get out of the car to get in the fifth wheel while someone set everything up. You can't just pull off the road or pull over to sleep as easily as you can in a C-class RV. Another con was that if you had car issues you'd no longer be mobile.
C Class
We looked at 3 different brand new C class models and walked through each one. The main thing we focused on was the height of the shower, the ability to separate spaces, and the number of sleeping areas. Then we ranked them in order of our favorite. I asked Mikey which one he loved the best (to get him involved) and we both agreed that Jayco was the winner.
Jayco Redhawk 31F
The Jayco Redhawk 31F in my opinion was the clear winner. 31F means that it's 31 feet long. It's the one we ended up purchasing. The shower was taller than most, there were bunk beds in the hallway and it even had a sliding door to the main bedroom so you could close it off from the rest of the RV. A big bonus for us because we had a 6month old baby at the time and privacy is key. It really came in handy, especially during nap times.
I also love how versatile the furniture is. In our RV, we have a couch and a kitchen dinette that can both turn into beds. Some RVs have recliners that are not able to function as beds. Plus, over the cab, there is a bunk large enough to fit two adults. The Jayco Redhawk 31F can comfortably sleep 8 people which is amazing.
How I'm liking it
I love the C class we bought. It fits all of our needs and is the perfect RV for our family.
On our first trip we went across the country. We decided not to tow a car behind us because in most of the places we were traveling to we didn't need a car. It worked out pretty perfectly. If we needed a car we just used uber or rented a car through Turo.
I rented a car for $25/day in Vegas and it cost less than $200 for the week. It was super easy and convenient. That was the only time we really needed a vehicle because of my work. I preferred having our "home" with us everywhere we went. We rented a yellow jeep for the day in Moab just for fun. It was a blast!
We traveled with our two dogs as well and they loved being able to explore. If we were tired, we could easily pull over in a Walmart parking lot or truck stop and I felt safe that we were all in one vehicle and we didn't have to get out of our RV at all if we didn't want to.
The only con in my opinion is the number of slide-outs. Our C class only has one, meaning the open space inside the RV is limited. More slide-outs equal more space inside. Which would have been nice but you can really only get that in those huge fifth wheels.
The pros outweigh the cons for us and the C class suited us best for how we intended to use the RV.
It's been a year since I bought my first RV! Because we've been renting it out on Outdoorsy, we're considering buying another one!
Want to travel the US in an RV? Become a renter
Already have an RV and want to make extra money while sharing your passion? Become an owner + List your RV on Outdoorsy!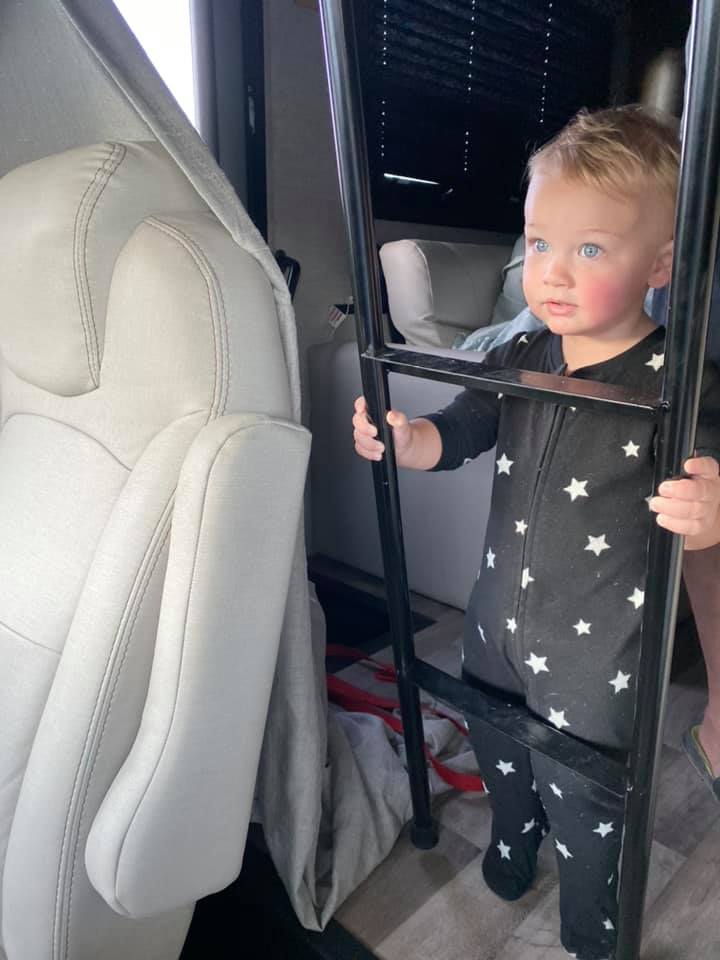 How Much Does an RV Cost?
Pricing
I got a lot of questions on Instagram about pricing when I announced I bought an RV. I had no idea how affordable RVs were until I started looking into them. The fifth wheels and travel trailers seem to be the most affordable option but you have to take into account the price of the vehicle you'll need to tow it. You can get a travel trailer for as little as $11,000.
The A-class motor homes get pretty pricey. The ones we looked at started at around $200,000 and went up from there. The C Class RVs price varies as well. I found a 24-foot C class that was around $60K but new ones are usually over $100,000.
When I first went to look at RVs, I thought I wanted a sprinter van or a smaller RV, like a B class, but they were super expensive for what you got, in my opinion. The Mercedes sprinter vans or "day cruisers" were closer to $200K and you didn't get that much in it. They look fun for a day, not for a long-distance road trip.
Financing
What I love about buying an RV are the financing options. Unlike a car where you can only finance for 5 years, an RV allows you to finance up to 20 years. Which makes them extremely affordable. When you're looking for RVs online you can actually filter by your estimated monthly payment based on how much you want to put down. Obviously, this is dependent on your credit and interest rates at the time of purchase but it's a great option.
Insurance
Make sure you check insurance prior to purchase. I called my insurance agent and went through my RV specs and was able to add the RV to my insurance for only $60/month. Surprisingly affordable.
Where Do We Keep It?
In our driveway. LOL But only for short periods of time. During the winter months or when it's not rented out, we keep it at a U-Haul. They do have RV-specific parking that's covered and has electricity but not any close to our house. Plus, those can get pricey. I think they run around $200/month but I'm not sure. Our monthly parking is $70/month and we got the first month free. It's not covered but it does have a gated entrance.

Questions?
I've been meaning to write this post forever because I always get so many questions on Instagram. I hope I answered all your RV questions but drop any follow-up questions below or shoot me a message on Instagram @Verbalgoldblog.

Read Next:
Ways to Have Fun Traveling With an RV
Your Guide to Finding a Luxury RV Rental
10 Really Good Reasons You Should Rent an RV for Vacation
Pin This Post: