The Best Travel Guide to Memphis, Tennessee
I was born in Germantown, Tennessee but haven't been back since I was in 1st grade. I was so excited when I was invited to explore Memphis again. It was so nostalgic because my family has a lot of memories there. This time, getting to experience them with my husband, and make new memories was a blast.
I think I'm qualified to say this is the best travel guide you're ever going to have. The hubs and I went to explore Memphis and had the absolute best time ever. If you love music, music history, or like any rock and roll or soul song ever then you'll love Memphis. Granted I haven't been back in awhile but now I know that was a huge mistake. So print this itinerary out for your next trip, turn on Walking In Memphis, add my Memphis playlist on Spotify and enjoy the city!
The Ultimate Travel Guide to Memphis, Tennessee
---
Where To Stay
Peabody Memphis is the ultimate place to stay in Memphis. There is so much tradition there that you can't go to Memphis without a stay at The Peabody Hotel.
Peabody history dates back to 1869 and when the original Peabody Hotel opened on the corner of Main & Monroe and immediately became the social and business hub of Memphis. In 1925 a newer, grander Peabody was built at its present location at Union and 2nd Street continuing the legacy of the "South's Grand Hotel." It was 1933 when ducks were originally placed in the hotel's lobby fountain, setting in motion an 80-year tradition that continues today with the March of the Peabody Ducks. The Peabody name has become synonymous with the 5 North American mallard ducks that are now the living symbol of the Peabody brand.
Where To Eat
Ok. Let's chat food. You really can't go wrong in Memphis. There are so many food options it's kind of crazy. Obviously, BBQ is the holy grail in Memphis but even though I don't eat Pork, I never felt like there was a shortage of food to eat. Rendevous was the first place we ate when we got there. They're known for being the oldest BBQ joint in Memphis. Make sure to add Huey's to your list. If you have a car, I'd recommend the Midtown location because it's the original. But it's a Memphis great for sure. My dad is friends with the family so we've been a fan of Huey's for years.
Branch out from Downtown a little bit and eat dinner at Next Door Eatery. It's a very artsy area so you'll find tons of murals, an art exhibit, some cool shops, and a brewery next door. After dinner you can head to Crosstown Brewing Company next door for a drink!
You can't go to Memphis without visiting The Arcade. It was a favorite of Elvis and he even has his own booth there. It doesn't get any more Memphis than that. It's not the fastest place in the world and there is usually a line out the door but it's worth it. I'd suggest going early to try to beat the brunch rush. It's the oldest diner in Memphis that has been run by the same family for generations. Another great breakfast spot is The Liquor Store. No, it's not a real liquor store and yes it is delicious. I got a cinnamon roll because why not. #livingmybestlife The decor was pink, gold, palm leaves, and neon signs. Basically an instagram gold mine.
If you're looking for a nice dinner go to the Gray Canary. That place was incredible. From burnt sugar rim cherry cocktails to the most amazing oysters, it's a must on any foodies list. Their cocktails are next level and the food is more small bites and apps so you get to try a ton of really impressive dishes!
What To Do
Memphis is a blast. It's seriously so much fun and there are so many things to do. You could spend an entire day and night on Beale Street exploring the restaurants and shops. We found an old vintage store with vintage toys and gifts and hand made soda. It was a blast from the past.
I would recommend going to the studio tours to learn about music history. Definitely visit the Rock n' Soul Museum. It's worth a visit. Very cool to learn about music history, Elvis, Johnny, BB King and all the greats! Next you can hit up the Stax Museum of American Soul Music. I'd recommend doing Stax and Graceland on the same day because they're pretty close to each other. And yes, you can't go to Memphis without visiting Graceland, Home of Elvis! It was so surreal walking through his home. Truly an unbelievable experience. I know he's a bit old for my generation but Elvis is a great. He's legendary. So play that Elvis play list your parents used to listen to growing up and go! You won't regret it.
A few other places to explore are the Carolina Watershed, Loflin Yard, Cooper Young, Overton Square, National Civil Rights Museum, Old Dominick, and the Ghost River Brewery. I'd also recommend going to The Pyramid which is a Bass Pro Shop and the former Memphis Grizzlies arena. The Bass Pro Shop is super unique. I mean they have their boats displayed in actual water inside the shop. There are even fish swimming around in there; it's crazy. If you pay $10 you an head up the elevator to the very top of the pyramid to see 360-degree views of Memphis, the river and the surrounding states.
You can also head to Broad Avenue for some shopping and wall mural hunting. Head to Wiseacre Brewery or City & State. City & State is a cute little coffee shop boutique. I'd recommend getting the refreshing iced coffee with orange zest. Who knew orange zest in coffee would be so good!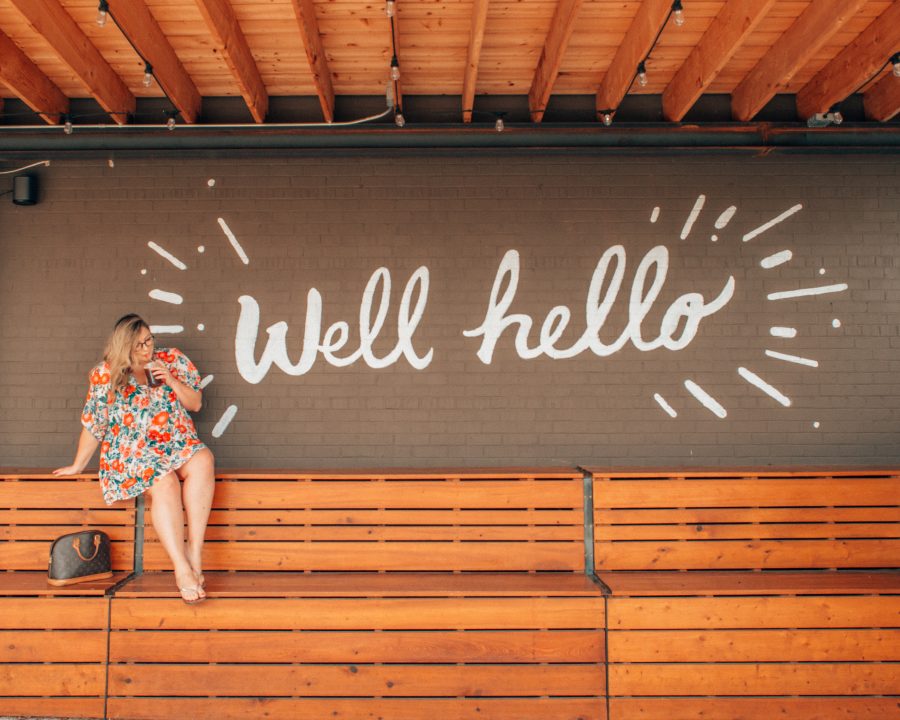 But if you're just interested in doing the music tour of Memphis, start here.
*All my outfits are linked on the like to know it app.