Strobing > Contouring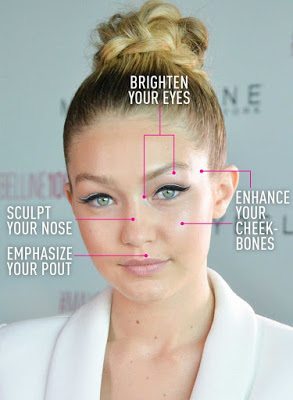 via
The preview for the new
Magic Mike movie was on tv when I started thinking about how to write this
article and it really helped me focus… I mean, the way the light reflected
off all those abs, and pecs, and other glorious body parts… yummy.  
That's what we're
trying to create here people!!!
Glistening, glowing, gorgeous abs. I mean, faces. Gorgeous glowing
faces.


First, the basic breakdown:
Strobing is the placement of light, reflective color to highlight specific
areas.  I like to think of it as
how Gigi Hadid looks walking out of a yoga class or Kendall Jenner waking up in
the morning #nofilter #geneticlottery #whatbeing20lookslike Whenever I see a cool new trend or hashtag, I
like to do my research.  Every article,
blog post, and review I read after I saw #STROBING all over instagram seemed to
cover the same points:
1. Strobing is better than
contouring!! Put down that bronzer and stop trying to make your nose
smaller.  Distract everyone with
the red carpet radiance coming from your cheekbones!!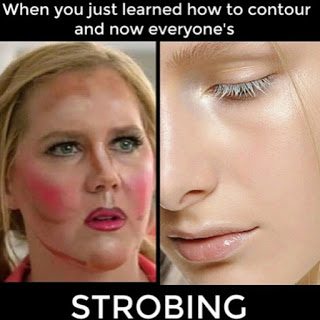 2. It's
so easy!! All you need is well moisturized skin and some mascara and let the
glow do the rest. Just a dab here, a little blending here, and you will glisten
like you've just spent a day yachting.


3. Great for every skin
type and occasion! Summer wedding? GLOW! Daytime work look? GLISTEN! Instagram
selfie? #STROBECITY


Armed with those visuals
and a few breezy 20 second how-to videos, my first reaction was to head
straight to sephora.com and load up my shopping cart
with dewy face oils and the new BECCA x Jacy ln Hill Limited Edition
highlighter.  However, I felt there
were a few more questions left to answer before I started on a Strobing How To article.
For example, Gigi and Kendall have beautiful, flawless skin… in
fact, all the girls in the "before" section
of each tutorial look like they just left a $5,000 facial with Kate
Somerville.  So if I don't
have perfect skin, is strobing still right for me?? How do I get the coverage I
need while still mastering that 'less is more' look?
How do I stay glowing and fresh without going greasy and glittery by 12pm?
Also, what do I do with the rest of my face????
My look // Makeup by Megan
STEP 1: Skincare- the basis
of this look revolves around clear, even toned, healthy skin. If you didn't
#wakeuplikethis, fake it until you make it… I love Juvabrite Skin Brightening Complex which helps brighten the skin and gets rid of those unwanted brown spots and evens your skin tone.  Also a fan of REN's Glycol Lactic Radiance Renewal Mask  and Paula's Choice Skin Recovery Mask 
STEP 2: Foundation- I wanted
a dewy look that would also last the whole day so I mixed MAC face & body
with pro longwear waterproof foundation and applied mostly to the center of her
face and blended out the edges. Then I mixed studio fix concealer with
lightboost (also MAC) and applied to all the areas I wanted to highlight- cheekbones,
temples, center of the nose, between her eyes, and cupids bow. I finished by
lightly dusting her entire face with colorless setting powder. 
STEP 3: The fun part!! I
went back over the areas I highlighted with MAC mineralized skin finish in soft
and gentle to add that extra *gleam*
Problem Skin- I never say
never when it comes to makeup but if your skin is too dry, oily, or acneic, I
would lighten up on the highlighter.
Follow your normal foundation and concealer routine and keep the
highlighting to temples, center of nose, inner eye, and cupid's bow.
Coverage- Most of the
tutorials I saw featured sheer foundations, like Nars Sheer Glow and not using
powder to finish.  I chose to mix a
sheer foundation (Mac Face & Body) with something more full coverage (ProLong Wear Waterproof) and to set with a colorless setting powder for a bit more
staying power and to help with the humidity outside. I kept the look light by sticking
to the center of her face.
Choosing a Highlighter-
Play around with different formulas!! Creams, liquids, or powders are all great
for strobing.  Just make sure that
the one you choose doesn't
have any large glitter flakes.
Subtle shine is the key to keeping this look wearable and not like you're heading to EDC.
Finally, keep the rest of
your look balanced.  Skip the blush
and the harsh brow and focus on either some great lashes or a bright lip!!
xo Megan // Makeup by Megan


*Powered by BrandBacker (all opinions are our own)