Our Interview with snapchat King himself, Dr.Miami
Dr.Miami – "Good morning everybody my name is Michael, they call me Dr. Miami. I'm a plastic surgeon and I make people feel better about their bodies.  Watch me as I snapchat my way through Monday…"
Dr.Miami – "Ta….. ta… ta… taaaa… What do we have
today?"
TA – "Well we have 3 BBL's" 
This is the typical start to a weekday snapchat from Dr.Miami and his team!   As someone that is not opposed to body improvement via plastic surgery his snapchat is
fascinating!  Also, probably one of the reasons it was named top 15 snapchats to follow ahead of Kylie Jenner.  
For those of you that don't know, BBL is short for Brazilian Butt Lift and walking around in Miami this past week had me looking at everyone's butt.  (hah) Dr.Miami I may have found one of your patients at the airport.  Wink wink. BBL on fleek.  No doubt the man has skills.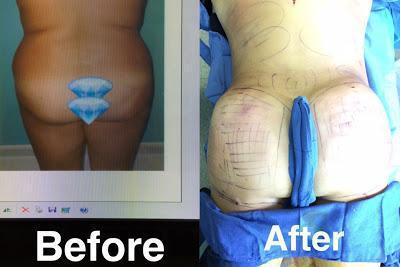 *actual snap from Dr. Miami
Another example of a BBL although not done by Dr.Miami.  I feel like I have to put this on here after my boyfriend thought that the Kardashians and Kylie Jenner all have real butts. #sorrynotsorry  Not body shaming because I love some plastics but own it. 
Ok back to Dr.Miami!  To give you the run down his shaptchat is a super 
close up 
graphic
representation of before, DURING, and after plastic surgery 
along with some office antics thrown in.
  Shoutout to Brittany!  What's up girl – I like those raspberry cheesecake cookies from Subway too!
His insta post on it: "Snapchat‼ WARNING: Not for the faint of heart! Graphic surgical footage, plus office drama, excitement, intrigue and fun!"
*actual snap of a tummy tuck
To some this snapchat will gross you out so be prepared to see it all.

  I would rate the above a 5 out of 10 on the gross scale so if you can't handle the above … you were warned.  
After watching a breast lift and tummy tuck, my boyfriend described it as "something that looks like it could be packaged and put on the shelves at a grocery store… I feel like I could go meatless from now on. Yeah I think I'm going to be a vegetarian after seeing meat platter of human booty cheese and fat. " Makes you definitely not want to eat again for awhile.  
Side bar:  In case you missed it and aren't a colt follower of Dr.Miami, he regularly listens to Fetty Wap or Lil B during surgery and even has a song and surgery routine.  "
Stir the booty cheese, stir the booty cheese, makin tunnels, makin tunnels, stop!  Inject." 
*Video here and more videos here 


So when I went to Miami for work I knew I had to meet the man himself and lucky for me he had just returned from him trip to Israel with his family.  So after my meetings I swung by for a snapchat interview!  

I was given a free t shirt that says #beautyispower when he came out to greet me!  He is definitely a ball of energy.  You can just tell how much he loves this!  I was amazed at how friendly and ready to go he was. 
I asked him why he started Snapchat in the first place because it's so unconventional for plastic surgeons that are usually out of the social media game.

  

Because not only is he on social media but he's killing it.

  
Dr.Miami said that his instagram account was shut down (shocking and my personal worst nightmare).

 

He had over 90k followers on instagram when it was shut down but don't worry he's already back up and has blown past that to around 200k.

  When his instagram was shut down, h

is daughter recommended snap chat and he didn't even know what that was.

  

After some talking into he agreed to try it and instantly Dr.Miami the #snapchatcelebrity was born!  
His snapchat gets in the upwards of 170-200+k

 

views daily and growing!

  

He's crushing it.  
And the number of people seeking his services has skyrocketed!  Want more
 Dr.Miam
i?  Find him here on 
Instagram
 and 
Twitter
!
I loved meeting him!

 

And I know if I ever want anything done I'll definitely hit up Dr.Miami for my free consultation!

 
So raise your hand if you're already following Dr.Miami on snapchat?

 

If not, head over to snapchat and follow @TheRealDrMiami (and us too while you're at it @VerbalGoldBlog) Can't wait to hear what y'all think so let us know!

 

Grossed out?  Love it?  Informative?  Does it make you want to have surgery or not at all?