4 of my favorite beach houses you can rent on Alabama's Gulf Coast for the perfect vacation
You know when things get hectic and you just want to "getaway"? Well, if you live anywhere in the South, driving to Alabama's Gulf Coast is a quick road trip away. One that leads straight to the beach! It is such a perfect escape. We go several times a year because we love it so much. Unless you're going during the Mullet Toss the beach is fairly scarce. No huge crowds, dog friendly properties available, and homes you can rent directly on the beach. It doesn't get any better than that. There's amazing restaurants close by (even dog friendly ones) with delicious fresh seafood, nightlife, private beach houses, and bushwhackers (my FAVORITE)!!!
Beach houses or condos are available to rent in several areas: Gulf Shores, Orange Beach, or Fort Morgan.  While Orange Beach and Gulf Shores kind of run together, Fort Morgan is more secluded, farther out, and offers dog friendly beaches! If you'd rather be in the action, close to restaurants and night life, you're going to want to stay in Orange Beach or Gulf Shores.
I always rent from Harris Properties because their site is super easy to navigate. You can choose by location, property, check the availability, choose a dog friendly place, large groups, with a pool, or beachfront. If it's too hard to decide feel free to give them a call. They're so nice and super helpful and obviously familiar with every property so you can find the perfect fit!
There are a lot of things that keep families and visitors coming back to Gulf Shores and Orange Beach year after year, but one thing is for sure: beaches top the list. Clear turquoise waters and white sand beaches are fun to play and relax on, and they are breathtaking. The white sugar sands in the Gulf Coast are made of ultrafine mineral sand with a significant percentage of organic granules.  The sand is made from pure white quartz crystal, which came from the Appalachian Mountains at the end of the last Ice Age and was deposited into the Gulf of Mexico. Pretty cool right!
Check out my 4 favorite properties you can rent on Alabama's Gulf Coast!
---
Gulf Shores
I love the Blue Parrot homes. There are two side by side so if you rent them both out you can sleep over 30 people! 30 PEOPLE! Like woah! Blue Parrot #3 is right on the beach in Gulf Shores, Alabama and even has a pool. Bonus!
"This beautiful Gulf front 5 bedrooms, 3 bathroom home sleeps 16 and is complete with everything you need to have a perfect beach vacation. The shared beach front swimming pool with comfortable lounge chairs is perfect for relaxing and playing. The two beautiful large decks provide uninterrupted breathtaking Gulf views of the sparkling waters and serene sugar white sand. The first level of the home offers a spacious and fully equipped kitchen. The lovely dining table seats eight and a cozy breakfast bar seats four. The large and open living area provides spectacular Gulf front views. The layout and design of Blue Parrott #3 are perfect for comfort and privacy. Located in the heart of Gulf Shores, only 1.8 miles from Highway 59, Blue Parrot #3 is a perfect beach house with all of the comforts and luxuries of home."
Orange Beach
There are a lot of luxury Orange Beach rentals available too! I love this sweet beach front condo called Tafy beach. It is the perfect location to relax and enjoy your Orange Beach vacation! Consider it your very own piece of candy! Tafy Beach is a beautiful 3 bedroom 3 bathroom condo that sleeps 10 at the premium Broadmoor Condominiums featuring bountiful amenities.
"This stunning corner unit boasts beautiful gulf views facing east to enjoy breathtaking sunsets. The beach is private and uncrowded, and you can look out to the sparkling pool and gorgeous beach while relaxing on your private balcony. You can also take advantage of the exercise room, hot tub, sauna, or tennis courts as well. Not to mention the famous Flora Bama is just a walk away!"
Fort Morgan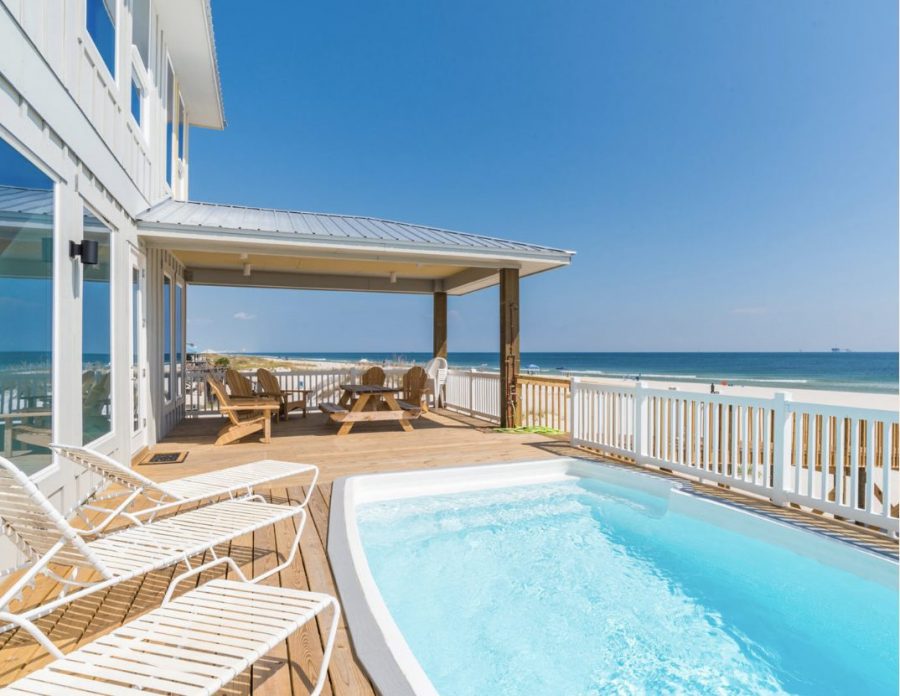 Luxury
Barefoot is my favorite property Harris Properties Management has!
"Tucked away in the tranquil seclusion of Fort Morgan, Barefoot is a luxury beachfront house that features a host of lavish amenities for guests to enjoy. The bright and calming ocean-themed interior of this home is punctuated with unbelievably luxuriant extras. Enter the fully-equipped gourmet kitchen and you'll find granite countertops, two top-of-the-line fridges and dishwashers, a stand-alone ice maker, and a pantry with plentiful space. Make your way beyond the kitchen and you'll encounter two open and massive living areas, six Master Suites with private bathrooms (four of which directly face the beach), two rooms with bunk beds for separating boys and girls during the trip, Wi-Fi and cable throughout the house, and a television with a DVD player in every room."
All I ask is that you save me time on the calendar so I can go back!
Beach Cottages
I also love the beach cottages! They're great for large groups and places like Summer 42 also include a pool!
"Soak up the sun and the sights from the breezy and massive open-air deck that faces the Gulf of Mexico. Or enjoy your blissful relaxation inside of the home's spacious living area, which opens up to the kitchen and dining areas. Additionally, this home boasts two master suites on the second floor, each with its own accompanying private bathroom. Outside, you can take advantage of the private pool for times when you don't feel like venturing down to the beach."
They're quaint but offer just the perfect amount of space!
You can book your next say with Harris Properties Management by contacting:
Website: Ourgulfshoresvacation.com
Phone: 1-877-4GO-GULF
Email Form: Here
Facebook: Harris Properties Management
Thanks for hosting us HPM! #sponsored