What to Pack for a Tropical Vacation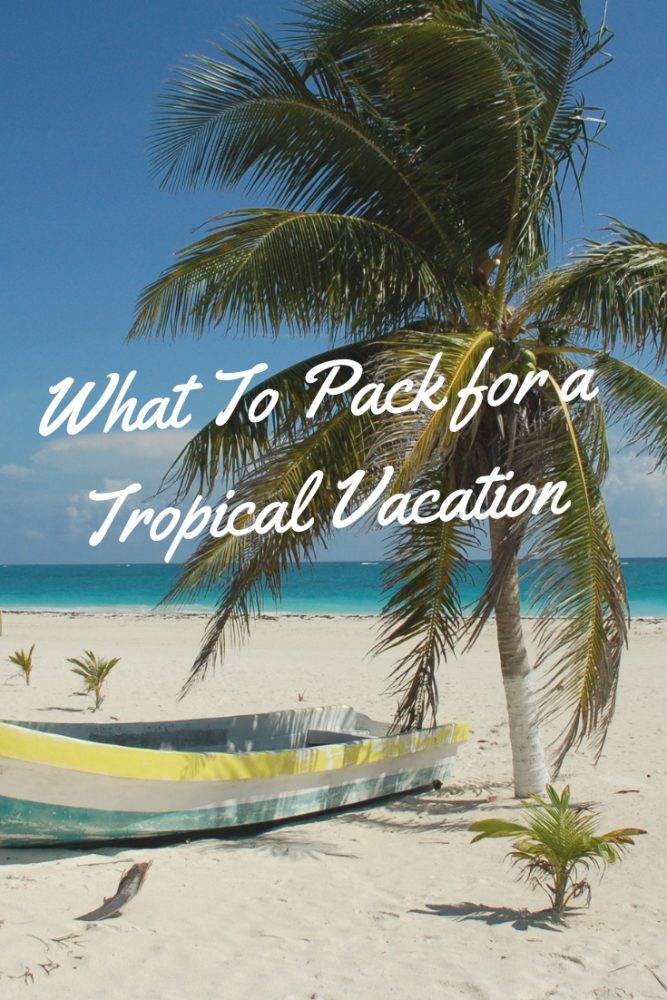 For a lot of people, it's been cold, dark and gloomy for the past few months and a lot of us are looking to get away from the snow and rain and go somewhere warm. So you've decided to pack up and head off to a tropical destination where you can live your summer dreams… But before you go, there's a little thing called packing. Here's what you'll need.
Dresses galore
When on a tropical vacation, you will probably want to be in a swimsuit all the time. But for the occasions when you need to put something extra on, you'll need a dress. Forget about form-fitting, skin-tight dresses – this is the time to go maxi. Look for loose, light materials that cover your skin to protect it from the sun but don't make you too hot. Take a look at your surroundings for style inspiration: colorful, floral prints, big patterns and natural motifs are what will make the perfect summer dress. Make sure that the dresses are compatible with your bathing suit, because you'll mostly be wearing them on top and you don't want your bathing suit to be popping up in odd places.
Hats
Sun protection is the number one thing that you need to worry about (and if it's a good vacation, the only thing you should be worrying about). Yes, sunscreen is a must-have, but you can't put sunscreen on your hair, and the top of your head is the part that is most directly exposed to the rays of sun. This is when the hat comes in. Get a big straw hat, something that lets the air through and lets your skin breathe but is still dense enough to protect from the sun. The brim should be wide enough to stop the sun from hitting your eyes, although you really should be wearing sunglasses either way. Hats aren't just a practical thing, they are one of the key accessories. Warm weather is the only appropriate time to wear a hat that big – and you want to maximize that potential. It gives the perfect background for your face and it makes it a focal point of any picture.
Good footwear
For starters, you want to have some kind of shoes that you can wear all the time. Going out, to the beach, walking around or dancing the night away. Something like the Birkenstock Gizeh is a perfect match, because it's comfortable and durable, allowing you to stay on your feet the whole day. Once you have your go-to everyday shoe, you should think about any activities you have planned while you're there. If you're the outdoorsy type, then you might want to go hiking, which will require a closed sports shoe or sneakers. On the other hand, if you're going to be visiting all the fancy restaurants and experiencing the nightlife, a glam pair of heels might be the thing for you. You can also opt for a wedge, as it will give you more stability and make it easier to transition from the beach to the party.
Swimsuits
In the end, of course, swimwear. There's no tropical vacation without swimming and sunbathing, and you want to look and feel your best. Make sure you have at least three swimsuits: one that you swim in, a dry one that you take with you and change into when you're done and a backup one to have while the first one is drying after you wash it. You want to find the right swimsuit for your shape: something that makes you feel as good as you look. If you're insecure about your tummy, then a pin-up style with a high bottom or a one-piece with side cut-outs can be a good fit. Try to avoid solid one-pieces, because they can misshape your body. If you have larger breasts, you'll want to have something with a lot of support, so look for wiring or padding to feel secure.
Electronic essentials
You might not want to take your work laptop with you, but you will definitely be taking your phone. With it, you'll need the charger and a portable battery to top it off when you're on the go. If you'll be spending a lot of time at the beach, you'll want to water- and sand-proof your phone. You can buy gadgets for that, or you can simply put it in a sandwich bag. If you're taking a camera and similar equipment, you might want to bring a gorilla stand, which can wrap around a tree branch or basically any surface so you can take the perfect shot wherever you are.
I would recommend my TREK Tech! It's my favorite new accessory for my phone.
Remember to bring lots of sunscreen to protect yourself and a big beach bag that you can put all of your essentials in that can also double as an extra bag if you overpack and are over weight at the airport. If not you have an extra bag to bring back all that stuff you bought! Remember that when you're on a tropical vacation, there's very little that you can actually forget to pack, since you're pretty much set with a swimsuit and a beach towel!
Shop The Post