How to spend 3 days in Dublin, Ireland
Ireland! We came, we saw, we drank you up. After a whirlwind 10-day adventure across Ireland, I can't help but reflect on my memorable journey through this breathtaking country. We've all heard the saying, "The grass isn't always greener on the other side" Well, in Ireland, it is! Whether you prefer the bustling city scene, or you're looking to venture out in the beautiful countryside, Dublin has something for you!
Here are some of my favorite spots to eat, drink and explore in Dublin!
DAY 1:
With so much to do I decided to knock out a few of the top must-see spots on Day 1. As soon as we (my friend Sara and I) checked into our hotel, we headed straight for the infamous Temple Bar area –  Dublin's rowdiest neighborhoods. With so many shops, restaurants, café's and pubs you absolutely cannot come to Dublin without paying a visit to the actual, Temple Bar. Established in the 1840, it instantly gives you all the Irish feels! Prior to this trip, I had never had any Irish beer so I pulled up a barstool and went with "Ireland's oldest Ale," Smithwicks (which became my go-to beer for the trip!)
After roaming around this rowdy neighborhood, we knew the next stop was going to see Trinity College and The Book of Kells. Trinity College is Ireland's most famous school and this was by far one of the most impressive places I visited. When you arrive at the college you are able to purchase a ticket for a 30-minute guided tour by one of their students. The student will take you around the outside grounds of the college and then when the tour ends, is when you are able to walk inside the college and see the famous Old Library and Book of Kells. Book of Kells is a 1,200- year old version of the gospels of the Bible – meticulously crafted by monks. I was in completely in awe. This is another must-do to add to your list.
DAY 2:
With so many more things to see and do on our second day, we decided the quickest and cheapest way to get around would be to purchase an all day ticket for the Hop on- Hop off bus tour. This was SUCH a great way to see Dublin! I also must say we lucked out our entire trip with phenomenal weather – unseasonably warm and dry for Ireland, which made our open-rooftop bus tour that much better. We had a fun, knowledgeable driver that drove us all along the Red Line and we would hop off whenever we wanted to see a certain place. The first place we toured was Saint Patrick's Cathedral. We decided not to tour inside but got some beautiful shots of exterior and a quick picture of the original spot where St. Patrick used to baptize many of the local converts.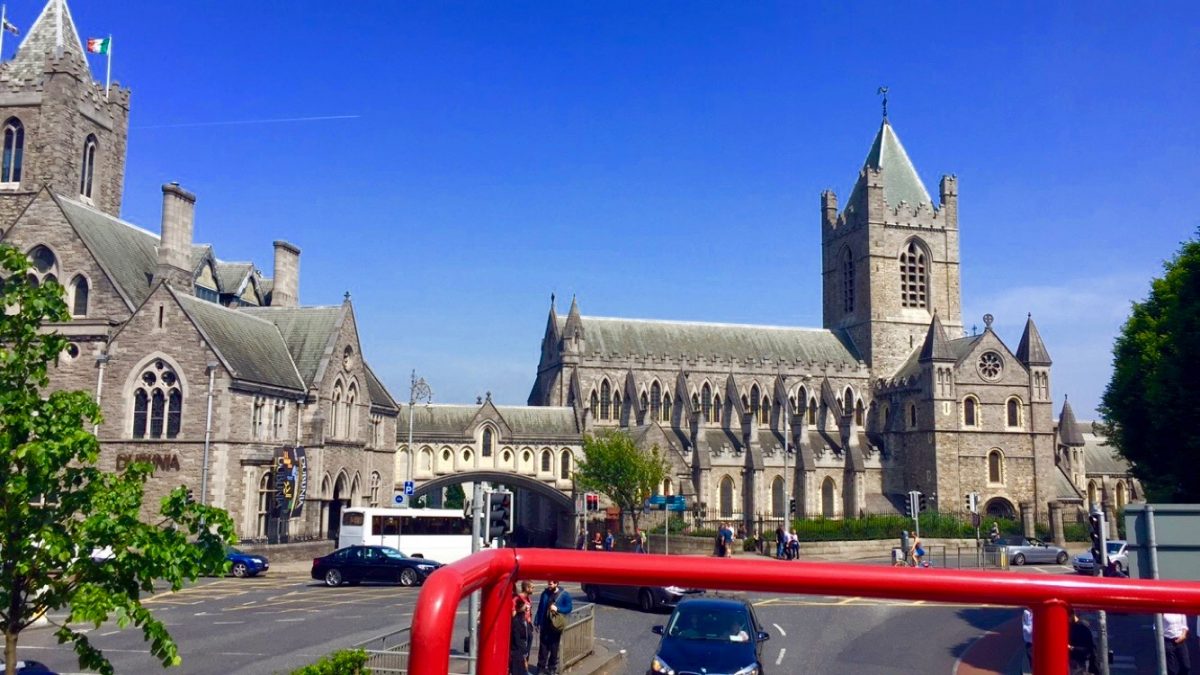 After attending church… next on our list was none other than The Guinness Storehouse. This was by far, my favorite thing we did in Dublin. I can't say enough about how impressive the inside of the brewery is and what a fun beer-making tour it was! There are different levels of the tour (7 to be exact) where you can taste test, view the history of Guinness and early advertising, pour your own perfect pint, and then end the tour with panoramic rooftop view that overlooks the entire city of Dublin! The tour cost 18 euros, but includes 2 free pints of Guinness – a great deal!
After spending a solid 3 hours at Guinness and one too many beers, we decided to keep our buzz going and hopped on over to Ireland's Oldest Pub, The Brazen Head! Established in 1198, this is definitely a pub to add on your list. We got some great photos while here and also ordered some of the BEST fish and chips I had on my trip. Another local favorite on the menu was the fried brie cheese – yes we got it and ate it all.
While on the subject of fish and chips another one of my favorite spots to eat in Dublin is Sheehan's who served up a serious portion of fried cod!
DAY 3:
So, to keep the theme going, we decided to continue drinking our way through Dublin and ended up at The Jameson Distillery. Recently undergoing a $15 million dollar renovation, it is a whisky drinkers dream come true. This is the original site where Jameson Irish Whiskey was distilled until 1971.
After learning about malting, milling, mashing, fermenting, distilling and maturing, visitors are invited to take part in the final step—tasting! There is also a huge merchandise area where you can purchase all the Jameson Irish Whiskey you can imagine. You can even customize your own label, pour your own bottle and take home their Distillery Edition bottle that isn't sold anywhere else in the world.
At The Jameson Distillery, you're able to customize your own label, pour your own bottle, and take home their Distillery Edition bottle that isn't sold anywhere else in the world.
It was such an eventful and filling Day 3! We decided to call it a night in order to catch the early train to Sligo the next morning.  After wrapping up our final day in Dublin, I must say this little city made one heck of an impact! Ireland, we drank you and we thank you! You truly are the friendliest country in the world!