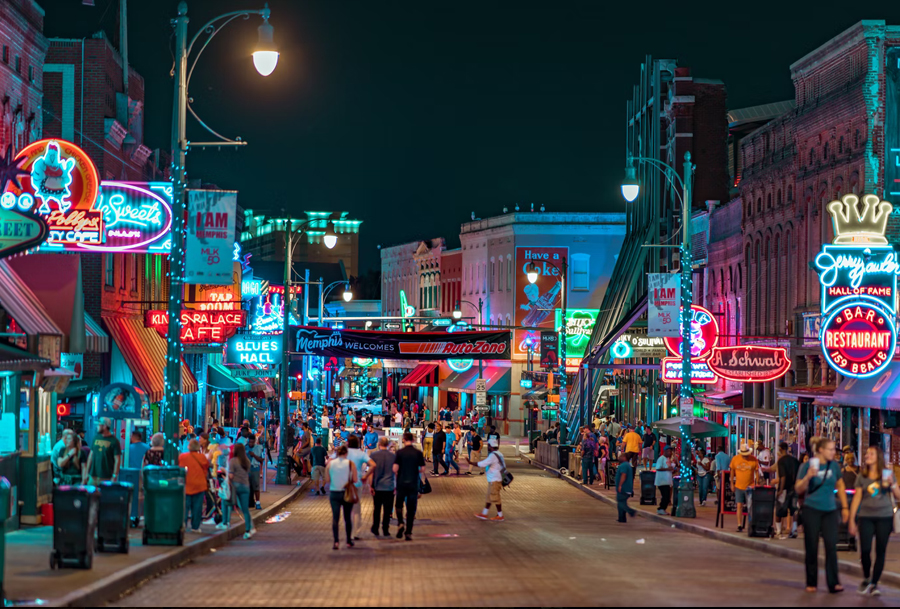 The Ultimate Guide To Beale Street
Beale Street, barbecue, and blues are Memphis staples. Beale Street is the very heart of entertainment in Memphis and to blues fans, it's the most important street in America. More than 150 years ago Beale Street gained popularity and it remains the heart of the city of Memphis today. Known for music ringing out from open doors and as a place to stroll with a drink in hand, it's a fun place to hang out. Landing on many bucket lists, Beale Street has become an iconic stop, don't worry this guide to the Home Of The Blues will help you to plan your trip. 
Beale Street Rules
The rules for Friday and Saturday night on Beale Street are a little more strict. After 9 pm anyone under the age of 21 needs to be accompanied by a parent or guardian. After 11 pm everyone on Beale Street must be 21 or older and possess a legal I.D. that will be checked when you enter the street.
Parking At Beale Street
If you are worried about finding parking at Beale Street, there is no need to stress. If you are staying at one of the hotels in downtown Memphis then chances are you are within safe walking distance. However, if you need to drive to Beale Street there are plenty of parking options. There are a number of parking garages but the closest is the 250 Peabody Place Parking Garage.
Touring Beale Street
If you don't want to tour Beale Street on your own there are several options for tours. The first is a walking tour of Beale Street by Backbeat Tours. This is a great way to learn more about the colorful history and entertaining stories of the Home Of The Blues.
Foodies will prefer the second tour option, the Taste Of Downtown food tour, by Tastin Around Town. While this tour doesn't solely focus on Beale Street a large portion of the tour will be on this famous street.
Things To Do On Beale Street
Wander Beale Street
Even if you don't have time to shop or stop for a bite to eat, you'll feel the electric energy of Beale Street simply by walking. You can even snap a photo under the "Home Of The Blues" sign.
Check Out The Stax Museum Of American Soul Music
926 E McLemore Avenue
Located at the former location of Stax Records this museum explores the story of soul music. This museum pays special tribute to the artists who recorded there, as well as other American soul legends. Stax Museum has an amazing collection of more than 2,000 items of memorabilia and artifacts.
Grab A Burger At Dyer's
205 Beale St
This Memphis institution, Dyer's Burgers was started in 1912 and remains just as popular today. The secret to their mouthwatering burgers? Grease! They've left the same grease in their fryers for over a century. The consensus is that century-old grease makes for one tasty burger!
Browse At A. Schwab Dry Good
163 Beale St
The oldest operating business on Beale Street, A. Schwab Dry Goods is a must-visit. One side is an old-fashioned General Store where you can find all kinds of quirky items and gifts. There is also a small museum on the second floor if you'd like to find out more about the history. On the other side of A. Schwab, you will find a charming Soda Fountain. Try the banana split or a frothy milkshake for a sweet treat! 
Peruse Memphis Music Record Shop
149 Beale St
If you're into the Blues then this record shop is for you. And even if you aren't a huge fan of the Blues you'll want to stop in here and browse their extensive collection of vinyl. You'll also find fun gifts and t-shirts here.
The Iconic B.B. King's Blues Club
143 Beale St
You've probably heard of B.B. King's Blues Club, it's known for the fantastic music and partying at night. What you may not know is that it's a restaurant during the day. Try the ribs, chicken fried chicken, and mac-n-cheese for a southern-style feast. 
Find History At The Memphis Rock N Soul Museum
191 Beale St
This museum tells the complete story of Memphis music. By documenting the musicians that shaped the majestic "Memphis Sound." If you are interested in the history of Memphis music this is a must-visit. Bonus: they've got a huge playlist!
Stroll By The W.C. Handy Statue
You'll find this statue in Handy Park, at the corner of Beale and 3rd Street. The park itself has 2 performance stages where concerts are always free and open to the public. In case you've never heard of the park's namesake, W.C. Handy was the Father of the Blues. He was one of the most influential songwriters in the U.S.
Indulge At Beale Sweets Sugar Shack
156 Beale St
If you're looking for a good old-fashioned candy shop then you need to stop at Beale Sweets Sugar Shack. Nostalgia with a side of sugar to indulge your sweet tooth is what you'll find in this candy shop. Try fudge, old-fashioned candy, and much more. 
Catch A Show At The Orpheum Theater
203 S Main St
If you can, try catching a show at the famous Orpheum Theater. It was originally called the Grand Opera House, but the original building burned in 1923. It was rebuilt by 1927 and remained in its glory until the late 1970's when it fell into disrepair. Thankfully a non-profit restored this once great theater making it possible for you to catch a Broadway musical or concert here today.
Chow Down At Blues City Cafe
138 Beale St
You can't miss grabbing a bite to eat at Blues City Cafe while walking Beale Street. They claim to serve the "Best Meal On Beale" and many agree that they do. Try the barbeque ribs, gumbo fries, or the delta-style tamales. 
Check Out Live Music At Rum Boogie
182 Beale St
Rum Boogie is a great place to check out live music on Beale Street. If you're hungry make sure to grab some gator gumbo, yes, you read that right and they are famous for this dish!
History Of Beale Street
By the early 1900s, the street was established as the place to be in Memphis, Tennessee. It quickly filled with many clubs, restaurants, and shops. The roaring 20's brought a multitude of blues musicians to Beale. And the rest, as they say, is history! Beale Street remains the Home Of The Blues.
If you find yourself in Memphis, Tennessee makes sure to take a day and night to check out all that the iconic Beale Street has to offer.