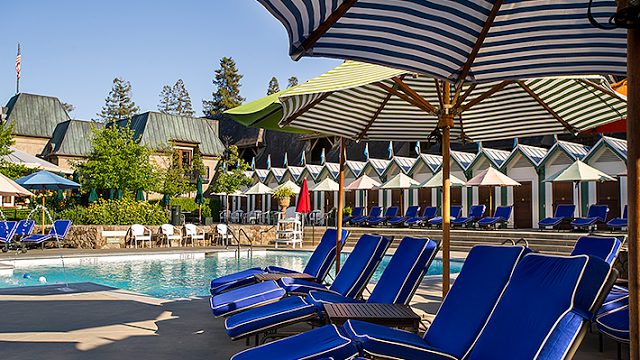 Stay-Cation Anyone?
WOW! What a day we had at Coppola… 
If you don't know what "Coppola" is, let me tell you. Francis Ford Coppola is not only an outstanding director (he directed one of the best movies The Godfather and countless others) he also had a vision for something so fantastic in the Alexander Valley that I am smiling as I write this. 
Without going into too much of the history of the winery (because the fun part is obviously the pool) and if you are like me you tend to want to skip to the end of a book or at least over those first few chapters. The Francis Ford Coppola Winery located in Guerneville California (about 15 minutes north of Healdsburg). The location of the building has magnificent views, you are atop a hill overlooking vineyards. It is absolutely breathtaking and completely serene. 
The pool at the winery is amazing. It books up early and fast. However, is highly worth the wait! It was a girls trip and we had an amazing time. What we ended up with for the day is called a cabine – it has lounge chairs, a private shower and changing room. Which is a great place to lock up all of your belongings for the day, so that you don't have that one person tethered to the lounge chairs all day to watch the purses. And yes it is Cabine and not Cabana, I was corrected… You can also get just pool passes (links to both here). The atmosphere at Coppola is that of a stay-cation so really there was nothing to do but relax, eat and sip wine. Do I need to keep going? Ok, I will… 
As if the pool isn't alluring enough, you can do formal wine tastings (yes…. you need to put on your cover up to go inside). There is also a restaurant called Rustic on the premise, we filled up on poolside food and didn't get a chance to check-it out (totally bummed because the menu looked great). 
I certainly hope to make another trip out.  We walked by and everything smelt delicious, to me that's always a great sign! The Francis Ford Coppola Museum across from the gift shop was spectacular. As I stated, I am a huge Godfather fan, and getting to see the original desk from the movie was so COOL to say the least. There is a case full of his Oscars, which is the closest I will ever get to seeing one in person. 
Our last activity of the day was playing at the Bocce ball court! We had all successfully given ourselves sunburns so figured we could try some other activities. I was impressed and please they don't charge extra.  At the same place you check-in for your cabine rental you just exchange your ID for the ball. When you bring the ball back you get your ID back. Easy peasy. 
The staff was accommodating and hospitable to our needs and made the day truly like we were on vacation. When speaking with the winery I found out that they have just started allowing private parties to rent out the pool area. For more specific event information or to book an event, please call (707) 857-1484 or email

[email protected]

. I sure hope everyone is able to make it out there this summer/early fall, you certainly won't be disappointed! 
I just want to point out that not only can Make Up by Megan do Make-Up incredibly well, but she is a highly skilled photographer. She took all of the amazing photos for the day!