The Best Overwater Bungalows Close to the US
The calmness of the wide-spread blues and the enchanting view of the sun setting in the waves. All that, while enjoying a refreshing rum-punch on your balcony. If that's not your idea of a perfect holiday, we don't know what is.
When we talk about the exotic overwater bungalows, the first place that comes to our mind is Fiji or maybe the Maldives, but what most don't know is that you can find the most amazing overwater bungalows near the USA!
Our Favorite Overwater Bungalows Near The US
Aruba Ocean Villas, Aruba
This mystique beauty is an ideal place to rediscover your mental peace. Practice yoga on the porch that opens right in the crystal clear Caribbean Sea or simply doze off your holidays doing absolutely nothing in this amazing hammock.
Being Aruba's only oceanfront villas, this place attracts thousands of tourists every year. But despite the high demand, you won't find crowds here. Luxurious bedrooms, attached baths, minibars, oceanfront decks are a few of the perks that this paradise offers. And the fancy restaurants in the neighborhood are a must-try too. Take your family or your sweetheart and get a little away from the hustle of city life and experience the enthralling beauty of nature.
Aruba Ocean Villas is renovating and building 2 more overwater villas. They even have one that has a private pool!
Read more: Our Stay At Aruba Ocean Villas Overwater Bungalow
Coco Plum, Belize
Coco Plum Caye is a small island in Belize. Being just a two-hour flight away from major cities in the USA like Miami or Dallas, this is one of the best (and closest) overwater bungalows near the US!
Think a private island overlooking the Caribbean sea, beach-resort goodness like no other, and an adults-only vibe! If a romantic private getaway is what you're after, it doesn't really get any better than at Coco Plum!
We've been twice. It's so good the guests go back year after year. There are shirts and tally marks at the bar and everyone becomes part of a Coco Plum family. I absolutely love love love Coco Plum, the staff, and their regulars. Check me out on their website too!
Read more about Coco Plum here!
Rosewood Mayakoba, Mexico
The soothing spas, authentic cuisines, and white sand beaches are what the Riviera Maya is known for. Plus, its premium luxury resorts and among them, an established name the Rosewood Mayakoba is of no match. Featuring 128 suites, this place offers breathtaking views with an immaculate interior. It possesses gigantic rooms studded with bespoke furniture, vast terrace opening to an individual pool, garden shower, and private boat docks. Not to mention the awe-inspiring view of twisty lagoons and boundless tranquil sea that will make your jaw drops every time you look at it.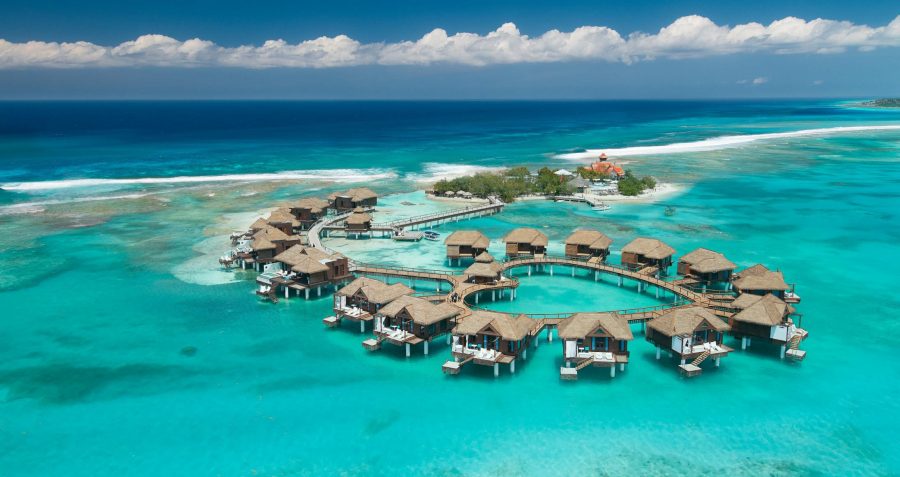 Sandals Royal Caribbean, Jamaica
Situated in Montego Bay, this luxury abode was founded on following the steps of El Dorado. However, the luxury bar was set a bit higher this time with floating water hammocks, infinity pools, soaking tubs, and water taxis. This place will redefine your concept of ideal holidays as it offers a wonderful experience of the Caribbean's blue water and the rich marine life that it possess with see-through glass floors right in your suite. Enjoy the beautiful marine life swimming as you explore this little mansion. Moreover, the outdoor shower right along the infinity plunge pool will make your make-out sessions a bit more titillating. And what else can a honeymoon couple desire for!
Punta Caracol Acqua Lodge, Panama
If you fancy the 'lost on deserted island' concept, this place is the best fit for you. Situated half an hour away from the town Almirante, this place has so much to offer for nature lovers. With a very quiet little neighborhood. Amid the wide-spread hundred acres, only 2% is consumed in these nine cabanas leaving the rest purely natural for the tourists to explore with kayaking, snorkeling, and numerous other options. Moreover, their take on sustainability by introducing solar-powered suites needs to be highly appreciated. However, a few might find it a bit 'unsophisticated' because of no air conditioners. But isn't this a must for an off the grid experience?
Thatch Caye Resort, Belize
All these new openings in Mexico and the Caribbean have now extended the idea of 'get back to nature' experience that was introduced by the Thatch Caye Resort years ago. And still, no one carries it as organically as these five bamboo-ceilinged overwater bungalows do. Plus, communal dining just adds a lot to the flavor. Tourists need to catch a nine-mile boat ride from Belize to reach this magical spot. That is also the perfect spot for water sports enthusiasts with the second largest reef of the world at the disposal. And the vast spread splendid Marine Park that spans 10 acres.
Sandals South Coast, Jamaica
This is just the right spot for people who want to celebrate their love on a holiday. Be it a newlyweds' honeymoon or twenty years of a happy marriage. Sandals South Coast will make sure you get the needed privacy with the best luxuries and environment. Cocktails, dinner dates, soaking tubs and outdoor will give you perfect reasons to spice up your intimacy. Moreover, private decks, mini-bars, net hammocks are all included in the package with a trained butler service that will be there to take care of everything you need during your stay.
Melia Cayo Coco
This five-star beach resort is situated in the home of pink flamingos, Cayo Coco. They have been offering their luxurious services to tourists for over 18 years now. These waterfront bungalows are built right in the lagoons that give a spectacular view from their spacious suites. You can either perform yoga on the pristine beach or you may hit the splendid spa centers to unwind the day after snorkeling in the saltwater. And the fancy restaurants with delicious menus will ensure your filled tummy. While the open bars are there to serve your favorite cocktails at the poolside all day long.
Palafitos Overwater Bungalows at El Dorado Maroma, Gourmet All Inclusive by Karisma
Also, make sure to checkout Palafitos Overwater Bungalows at El Dorado Maroma, Gourmet All Inclusive by Karisma – Adults Only!
Located in Playa del Carmen and with ADO International Bus Station reachable within 5 miles, Palafitos Overwater Bungalows at El Dorado Maroma, Gourmet All Inclusive by Karisma – Adults Only provides a bar, allergy-free rooms, free WiFi and a private beach area. Featuring a business center, this property also provides guests with a restaurant. The resort has an outdoor swimming pool, fitness center, evening entertainment, and a 24-hour front desk.