Exploring Downtown Atlanta: Top 10 Things To Do In The Centennial Park District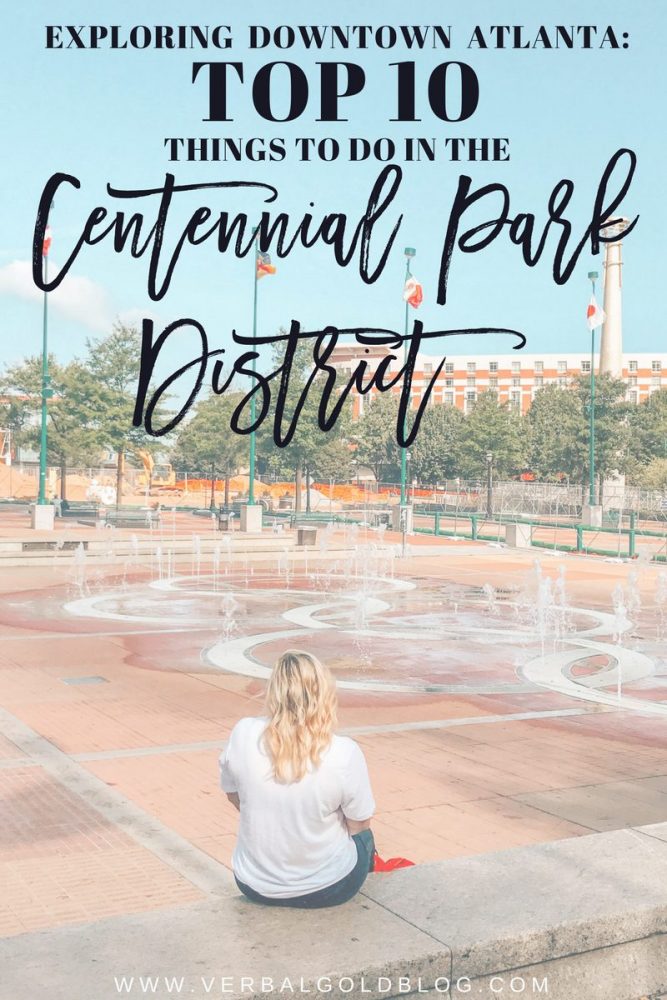 Sometimes it's fun to be a tourist in your own city and explore some things you might not normally do! I'm an Atlanta local and I love finding new things to see and do around the city! Have you been to the Centennial Park District in Downtown Atlanta lately? There is so much to see and do and even more in the works!
Check out our top 10 things to do in Downtown Atlanta Centennial Park District
---
1. World of Coke
2. College Football Hall of Fame
3. CNN Center
4. Sky View Atlanta
5. Centennial Olympic Park
If you saw my Instagram stories when I was out exploring Centennial Olympic Park you saw that I got completely soaked by the fountains at the park. It's a fun little area to walk around, sit down and relax, and play in the fountains. Just make sure you judge it right so you don't get soaked like me! I also loved sitting on the side just watching the tourist. Sometimes it's just fun to be a tourist in your own city.
6. Wall Murals
Everyone one loves a fun wall mural! You can find our two favorites  here and here!
7. See a concert or show at The Tabernacle or the Phillips Arena
8. Downtown Dining
A few musts are Der Biergarten, Max's Coal Oven Pizzeria, Stats Food + Drinks, and Twin Smokers BBQ. You can also check out the CNN Food Court before a show because they have a ton of options! There are over 300 restaurants to choose from!
9. GA Aquarium
The Georgia Aquarium is a family fun place to go see all different kinds of fish! It's even great for a day date!
10. Go to the Hawks game at the Phillips Arena
This is definitely a must! I've seen too many shows to count at the Phillips Arena. It's such a fun experience! Check the schedule to see who's in town!
---
Have so much fun exploring the city and especially the Centennial Park District! Make sure to tweet us or comment below what your favorite thing to do is with #VGBsquad! If you're not already following us on Instagram make sure to add @VerbalGoldBlog!
Check The Map
*This post was sponsored by The Centennial Park District