Charleston Eats: My top 5 must-try foodie spots!
I had so much fun eating and drinking my way through Low Country!  With so many options when it comes to the best foodie spots in Charleston, I have narrowed down my top 5 must-try spots!  Trust me on this one, you WILL NOT be let down when it comes to these culinary innovations and cocktail creations!
Check out my top 5 must-try foodie spots!
Goat. Sheep. Cow – Butcher & Bee – The Darling Oyster Bar – The Cocktail Club – Mercantile+Mash
---
Goat. Sheep. Cow.
Located South of Broad, is the ultimate and must-visit, "small shop with a big heart" Charleston's premiere fromagerie, Goat. Sheep. Cow. This is your exclusive destination when it comes to the best wine, cheese and provisions in the South East. I could have spent hours tasting their fresh artisanal cheeses straight from the block. So, trust me on this one – you cannot visit Charleston without paying a visit to Goat. Sheep. Cow.  I ended up going with the Domaine De La Grand'Cour Fleurie wine, Provolone Mandarone cheese and fresh baked Semolina Baguette.
Butcher & Bee
WOW. Not even sure where to start when it comes to Butcher & Bee. After a morning filled with sight seeing, I was ready to crush some of the best eats that Charleston has to offer! Weeks before my trip, I had a list of 30+ "must-eat" spots, but the one at the top of that list was Butcher & Bee. Owner, Michael Shemtov and chef Stuart Tracy are culinary geniuses. Every day their menu starts from scratch, with a chef who prepares the freshest, seasonal, farm-to table ingredients around. Thanks to a friend and local who joined me here for lunch. He definitely steered me in the right direction when it came to choosing… basically everything on the menu! MUST ORDER MEZZE'S: (pictured)
Whipped Feta
Beets
Crispy Stuffed Olives
Cauliflower
House-made pickle plate
After devouring our Mezze's, I ordered the ultimate Butcher & Bee double cheeseburger, house made fries and homemade ketchup (zero calories – bonus)! You guys. Holy. Sh*t! Best burger I have ever eaten! To go along with the best burger in town, I also went with Charleston's local Revelry brewery beer, "Poke the Bear." Not only did Butcher & Bee exceed my culinary expectations, but the friendly staff and exceptional customer service from our waitress, Destin, was greatly appreciated. One last must-order item before heading out are Butcher & Bee's freshly baked artisanal breads. Used for their array of different sandwiches on the menu, I couldn't help myself but to take home a fresh baked loaf for my drive home to Atlanta the next day.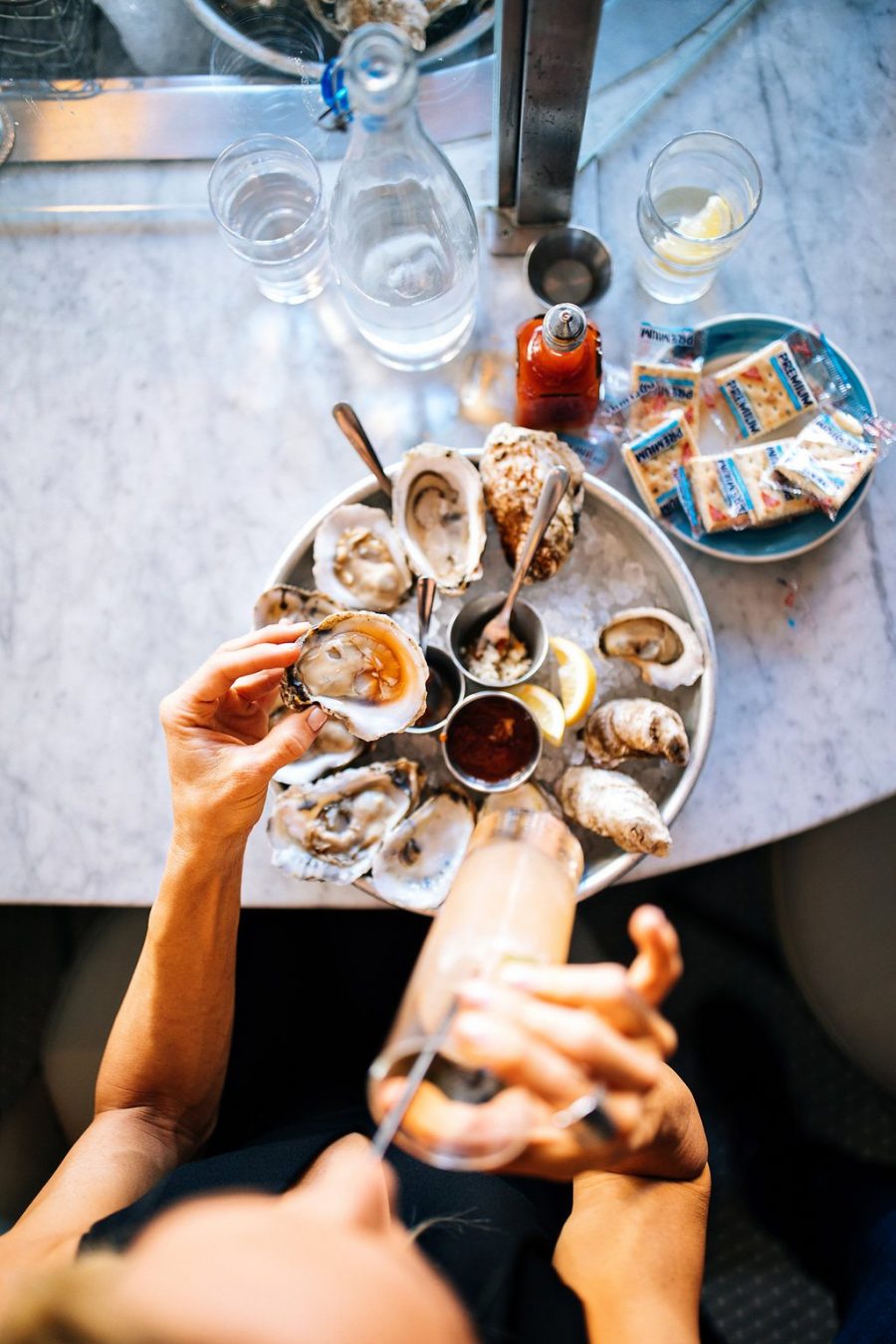 The Darling Oyster Bar
The name says it all. This is seriously one of the most charming restaurants in all of Charleston. With black and white tile floors, retro vintage seats, a sprawling marble-top bar and the most-impressive oyster shucking in town – I pulled up a front row seat and never wanted to leave.
I pulled up a front row seat and never wanted to leave.
Once inside, you feel like you are in a different Era when all that matters is good food, conversation, and even better company. Before sucking down my half shell dozen oysters, (which included a few James Rivers, Broadwater Salts, and Beausoleil's) I started with the famous Darling Oyster Bar, Paloma! It was a seriously delicious cocktail, made with Tequila, fresh squeezed Grapefruit, Lime, Agave, and Crème de Pamplemousse Rose! I may or may not have had 3 or 4. I cannot say enough about this place. Seafood is obviously the star of the menu but other show stoppers are the oyster tower, burger, and soft shell crab when in season!
Mercantile+Mash
Lastly, I couldn't visit Charleston without stopping in Mercantile+Mash. Known as the "gourmet food emporium" and located in an old cigar factory, you can find just about anything you want when comes to local, homemade items, cheese, wine, baked goods, gifts, cookware, and other one-of-a-kind products. I made sure to load up my basket with my favorite finds!
The Cocktail Club
Winding down the day, my unforgettable 24 hours in Charleston would not be complete without ending my night at The Cocktail Club. This tucked away gem on upper King Street is where you will find some of the best crafted cocktails in Charleston (if not all of South Carolina.) With their freshly squeezed juices, rare liquors, and highly trained mixologist, it's no surprise why bar manager, Ryan Welliver just earned the prestigious spot as the official 2017 Charleston Wine + Food festival's signature cocktail.
I was lucky enough to meet Ryan while visiting and WOW did he surprise me with a one-of-a kind, specially made, not on the menu, cocktail. Did you know that when you dust cinnamon over the top of a flaming liquor drink that it actually makes the fire ignite even more? Yeah, me either. Needless to say, the drink was EVEN better than how badass it looked! Ryan brings Thirsty Thursday a whole new meaning. Or any other day of the week for that matter. Do yourself a favor and go here!
---
Do you have any Charleston recommendations on where to eat? What's your favorite?
All photos by: Andrew Cebulka Photography