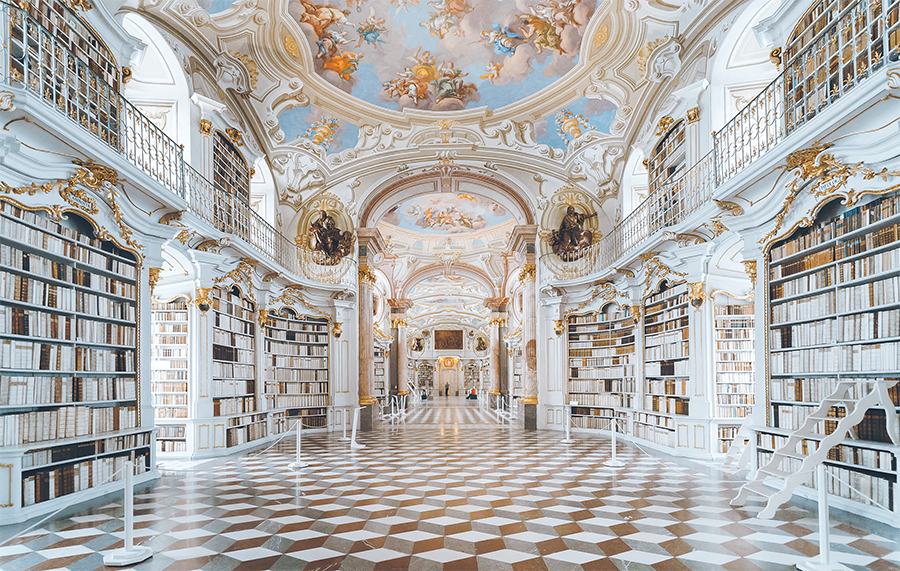 The Most Beautiful Libraries in the World
Into books and gorgeous architecture? Not all libraries are dull rooms lit by cold fluorescent lamps! There are some seriously beautiful libraries in the world that are worth a trip.
Think reading rooms nestled inside enchanting castles, modern towering bookshelves, or Hogwarts-style study rooms. Here are some of the most beautiful libraries in the world that are a must in every bibliophile's itinerary! Some are so stunning that living in one of these cities and dropping by quite often could very well become a book addict's life goal!
The Most Beautiful Libraries in the World:
Library of Admont Abbey, Austria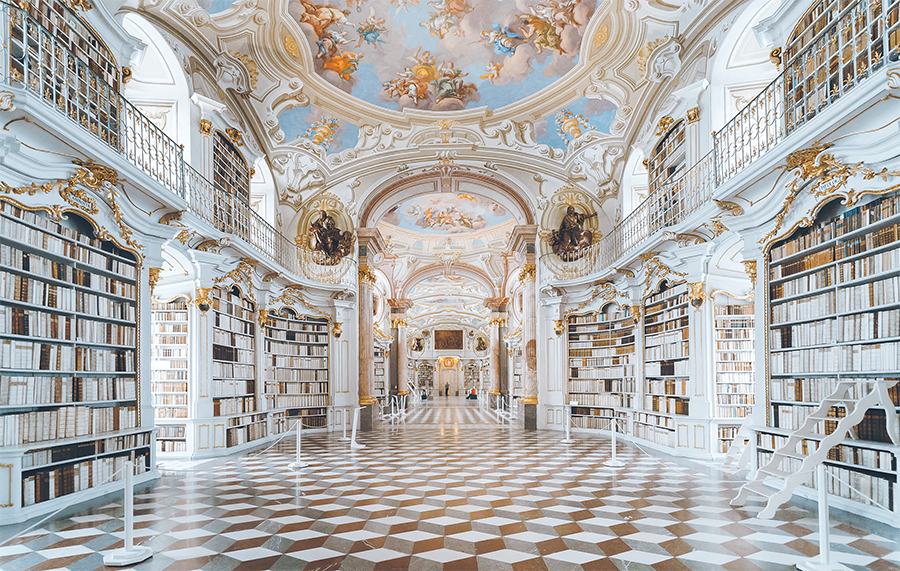 Concluded in 1776 with Enlightenment ideals, such as: "Like our understanding, spaces too should be filled with light.", the library of Admont Abbey is the largest monastery hall in the world.
A stunning example of European Baroque as well as one of the world's most beautiful libraries. It features different art genres such as sculptures, frescoes, manuscripts, and prints. Admont Abbey library houses over 70,000 books, some of which were printed in the 8th century!
Libreria Acqua Alta, Venice, Italy
Libreria Acqua Alta means "High Water Bookstore", and that's exactly what it is, due to Venice's waterways that frequently flood the shop.
That is not a problem for this bookshop, however, because they found creative ways of storing their books inside bathtubs, boats, an actual gondola, and other ingenious containers!
This beautiful bookstore consists of several rooms, all of which are filled with piles of books, maps, and magazines of all sorts. A unique feature of this shop is the staircase that leads to and from the entrance, which is completely made up of books!
Klementinum, Prague, Czechia
Located by the ever-captivating Charles Bridge in the heart of historical Prague. This library is undoubtedly one of the most magical places in the world.
Built in the 14th century, Klementinum was reconstructed and remodeled during a span of over 170 years. Today it is one of the largest buildings in Europe. That explains why there are various architectural styles featured in the complex.
Klementinum can be visited with a tour that lasts fifty minutes and provides visitors the opportunity of exploring the library's hall, Prague's iconic astronomical tower, and Meridian Hall, a unique room on the second floor that was used to determine noon hour!
Livraria Lello, Porto, Portugal
The most quintessential part of Livraria Lello is its famous crimson staircase. The whole building complex is fantastic for Art Nouveau lovers. Other highlights are, of course, the majestic ceiling and stunning stairways.
Built in the early 1700s, this eclectic bookshop full of Art Deco details on its walls features various rooms, where visitors can find some of the most important works of Portuguese writers.
Austrian National Library, Vienna, Austria
Another favorite of architecture lovers and bibliophiles is the Austrian National Library, the largest one in the country. Founded by the Hapsburgs, it was originally named the Imperial Court Library.
This awesome library complex houses over 12 million books and items from just about every art genre inside its four museums.
Starfield Library, Seoul, Korea
The Starfield Library is one of the most iconic sights of Seoul. It has rapidly become a hot spot for book junkies and photographers alike!
Set in the center of COEX Mall in the famous Gangnam area, this library features books from many book genres. What makes it quite unique is the fact that it is an open space where anyone can sit and take a break while contemplating the high shelves and their contents, or read from a wide selection of books, ebooks, and magazines.
Domaine de Chantilly, Chantilly, France
Château de Chantilly is one of the finest castles in France. Inside its walls, one of the most beautiful libraries in the world can be found.
The Duke of Aumale was very much devoted to arts and literature. He spent his whole life acquiring and collecting some of the most precious objects, especially books.
Almost 19,000 books, some of which are very rare, are kept and exhibited in the castle's Reading Room. More than one thousand manuscripts, some that date back to the Middle Ages, can also be admired here.
Trinity College Library, Dublin, Ireland
Sitting inside Trinity College in Dublin, this library is genuinely one of the most interesting spots for architecture and book lovers alike.
The whole college complex is an absolute architectural beauty. The most beautiful room is the library's chamber, known as the Long Room, which is 65 meters long. Inside, over 200,000 books can be found, as well as busts of writers and great philosophers. The place is kind of reminiscent of Hogwarts library!
Visitors are welcome to stop by and visit any day of the week. The first part of the tour is the Book of Kells exhibition, then continues on to the Treasury, where the original manuscripts of the Book of Kells can be found. After that, a walk through the emblematic Long Room, which you probably won't want to leave!
Read Next: 5 Top Picks To Do In Dublin, Ireland
State Library Victoria, Melbourne, Australia
State Library Victoria in Melbourne was built back in the 17th century only two decades after the city was settled. It has gone through some renovations, so the old and the modern meet inside the building.
This is not only Australia's oldest library but also one of the first public ones in the world. The building spans more than a whole block and boasts several spaces, but the best one by far is the La Trobe Reading Room. It's an amazing octagonal-shaped chamber six stories high, which is also quite a spot for selfies!