4 Wicked Awesome Boston Restaurants That You Have to Try!
Boston has some wicked awesome food. The restaurants are pretty amazing and so are the people! I tried mouth watering food in every category there was and it did not disappoint. I can honestly say I ate and drank everything below and did not gain a pound from any of it and to me that's a sign of fresh food made right! I would happily visit any of the restaurants below over and over again if I lived in Boston! They were so good!
Check out the TOP 4 places you must eat at while you're in Boston!
55 Northern Avenue (1 Marina Park),Boston, MA 02110
Trendy Asian restaurant and lounge that's sleek and modern in a clublike complex with multiple dining rooms. The perfect place for dinner. Plus every Monday night they have all you can eat sushi for $29! Start out with the blossom frose cocktail or the lychee ginger fizz. They were delicious! For apps you're going to want to try the corn rangoons, spicy salmon rice bites, scallion pancakes, and sushi cupcakes. Seriously, so good. The 3 different sauces that came with the scallion pancakes made the entire dish. For dinner we had the empire house maki sushi but with the open kitchen and home made sushi, you can't go wrong. For dessert we had the smores campfire and you have to try that when you go! I didn't try anything I didn't like.

131 State Street,Boston, MA 02110
Great place to grab lunch after a boat ride with the Boston Harbor Cruises because it's only a short walk away. It's a 2 floor restaurant with an old-school classic Boston-meeting-place vibe in the historic Board of Trade building.  I'd recommend their BPH clam chowder, lump crab dip, lobster mac and cheese, and the chilled lobster roll. Give me all the lobster! YUM! A lot of people are fans of their tater tot poutine too! Make sure to try out a local Massachusetts beer while you're there. We had the Gray Lady, a wheat beer from Nantucket, a tiny isolated island off Cape Cod, and it was delish! Oh and for dessert, the sweet potato donuts were seriously out of this world good!
541 Tremont St, Boston, MA 02116
The Beehive in the South End has an underground speak easy vibe. When we were there they had a live band playing that really set the mood. We started the night with a 3 piece jazz band and ended the night with a 4 piece Indian jam band, Harshna Krishna, that killed it. The fun yet intimate atmosphere was extremely inviting with the exposed brick, gorgeous chandeliers and colorful art on the walls. It's the kind of place where spontaneous dancing might occur during dinner.
I was impressed with their unique cocktail menu with fresh ingredients and infused spirits.
We tried several different drinks:
Thick in the daisy – chamomile infused gin, fresh grapefruit, champagne
Hemingway daiquiri – white rum, grapefruit, lime, maraschino
No exit – Milagro silver tequila, lavender, creme de violette, lime
I'd recommend the deviled eggs with spiced carrot slaw as an app. I also started with a beehive salad that was so good and then had the house made fazzoletti pasta with asparagus, pesto, and burrata for dinner. The pasta was so fresh it literally melted in your mouth. I think I inhaled my dinner, it was that good. I wonder if they deliver to Atlanta? Jennifer had the duck au poivre and also loved her dish! Some other things I was dying to try off the menu was the ahi tuna salad and the Beehive frites sage and sea salt. For dessert we devoured the banana cheesecake and it was like nothing I've ever eaten before. The perfect end to an amazing meal.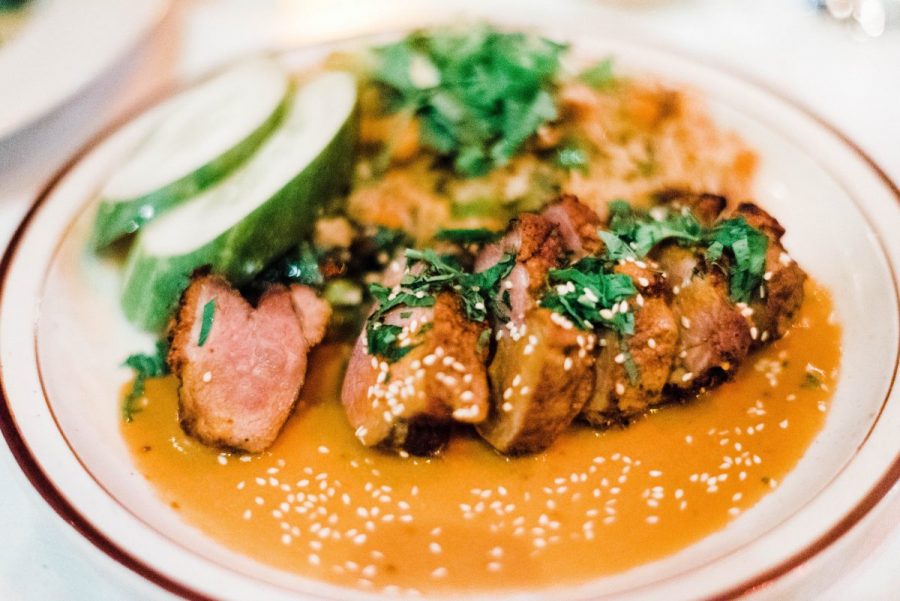 Antico Forno is known as the most traditional Italian restaurant in Boston and I can totally see why. It's the real deal y'all! An authentic Italian restaurant to the core. We went for lunch and thoroughly enjoyed the entire experience. There are huge floor to ceiling windows in the front that remain open when the weather is nice with greenery draping down creating a lovely colorful curtain against the exposed brick. The wait staff was as authentic as the food and we had a ball with our waitress. They were extremely nice and super attentive. We shared a wood fired brick oven pizza that was to die for and of course one of their amazing pasta dishes. We couldn't end our lunch without a cannoli and espresso and as expected it hit the spot.
Enjoy eating your way through Boston! I know we certainly did and we can't wait to go back!
---
Shop my Boston look!
Read Next
Thanks so much to all the restaurants for hosting us.