Quirky Cave Hotels to Stay in Around the World
Once you've traveled around for a while, every hotel kind of feels the same. Sure, they may promise a "one of a kind" experience, but in the end, it's just a private room with a bathroom, right?
Well, for those who are looking to spice up their travel routine, (or are die-hard fans of unique and unusual gems) I scouted the most incredible cave hotels from all over the world that will allow you to hide from the world and experience some of the world's most incredible views.
Quirky Cave Hotels to Stay in Around the World
1. La Claustra, Switzerland
Looking for a reason to cut yourself off from the outside world? Then book a stay at the La Claustra hotel in Switzerland. The price starts at $729, and the interior is reminiscent of Batman's infamous bat cave. This impressive fortress used to be an old artillery bunker. Mobile phone service is not available and there are no television sets in your room. If you were looking for an epic excuse to detox from social media, this is it.
Inside this underground hotel, you'll find some cool amenities like a sauna, a seasonal outdoor pool, and even a restaurant with six-course dinners that are served every night. But the hotel is only open from May to October because of the mountain region's crazy winter weather. So, make sure to make your reservation way in advance.
2. Sidi Driss, Tunisia
The Sidi Driss hotel in southern Tunisia was built a century ago, but most "Star Wars" fans will recognize it as the set for Luke Skywalker's childhood home on Tatooine. What's cool about this place is that you don't have to go to a galaxy far, far away. The hotel is in the village of Matmata where locals have been digging their homes from the ground for thousands of years. Today, the 20-cave-room hotel offers simple décor with echoing corridors and a circular courtyard. And the kitchen serves regional dishes like couscous, chorba soup, and lamb tagine. Make sure to visit their website as prices vary by reservation date.
Book now
3. Gamirasu Cave Hotel, Cappadocia, Turkey
Book a stay at one of 35 restored cave rooms at the impressive Gamirasu Cave Hotel in Cappadocia, Turkey. Prices start off at about $300 and up per night. The rooms inside this rock hotel are literally carved out of the rockface. This striking hotel used to be a monastic retreat in the Byzantine era, and it's one of the only hotels that features an 11th century Byzantine Orthodox church.
Other amenities in this contemporary abode include an organic-only restaurant, a swimming pool, and a heated floor that overlooks the valley. The region is also known for giving visitors the chance to hop on a hot air balloon and experience a bird's-eye view of the boulders, honeycombed hills, and fairy chimneys of the area's landscape.
4. Kayakapi Premium Caves (Also in Cappadocia, Turkey!)
Book a stay in a medieval room that's carved right from the rocks at the beautiful Kayakapi Premium Caves in Cappadocia, Turkey. The interior offers a blend of ornate stone murals, upscale décor, and hand-carved furniture. Book a larger suite and you'll get to enjoy a private Turkish bath called a hammam. You'll also get to dip in the outdoor swimming pool, eat at two onsite restaurants, a rich and delicious breakfast buffet including Cappadocian and international cuisine, and choose from a vast local wine collection. Best of all, the hotel is only a couple of miles from the Zelve Open Air Museum and the Al Nazar Church. Depending on the season, prices start at $130+ per night.
5. The Kagga Kamma Nature Reserve, South Africa
The Kagga Kamma Nature Reserve in South Africa offers guests facilities that are nestled deep in nature. So whether you're relaxing in the Open Air Massage Area or resting in a bed in the Sky Suite Open Air Room, you'll get to experience the breathtaking scenery, the wilderness, and tranquility that this region has to offer. In other words, the sky is your ceiling!
The reserve also offers excursions and activities like Rock Art Tours and guided nature drives as well as hiking trails and the chance to stargaze at the mini observatory. The rate per night starts out at about $130 and up.
6. Les Hautes Roches, Rochecorbon, France
Les Hautes Roches in Rochecorbon, France, is just minutes away from the beach and is set against the backdrop of the Loire Valley. And here's an interesting tidbit. It used to be a dormitory for the monks at Marmoutier Abbey, but now this fortress is a lavish 14-guestroom hotel, 12 of which are carved into the limestone rockface. The hotel also offers guests an outdoor pool and a large garden. The price will set you back about $80 plus per night, depending on the season.
7. Caves Beach Resort, Egypt
The Caves Beach Resort in Egypt will have you flashing back through time to all those Flintstones cartoons you used to watch as a kid. The prehistoric décor of the 383 rooms features unbelievable cave-style interiors, exposed stone walls, and even animal-print bed linens and natural wood furnishing. The hotel also has a gym, a tennis court, a swimming pool, a mini football pitch, a water sports center, two restaurants, and six bars named after characters from the Flintstones cartoons. Best of all, the rate per night starts out at about $80.
8. Yunak Evleri Hotel, Turkey
The Yunak Evleri Hotel in Cappadocia, Turkey, offers 120 rooms that date all the way back to the 5th and 6th centuries. The décor is elegant with its Emperador marble floors, lace curtains, and old brass bedstead, which is pretty fancy considering you're staying in a cave. The hotel also provides you with a view of the Turkish Mesa in order to get the ultimate cave experience. And some of the other amenities include the pool and spa area where guests can revitalize their body and mind with the help of highly skilled massage therapists. A classic cave room currently starts out at $98.62, so, don't miss out.
9. Hotel Marhala, Nefta, Tunisia
Here's another hotel that will get all you "Star Wars" fans super excited. The Hotel Marhala in Nefta, Tunisia, is where a lot of the scenes from "Star Wars: A New Hope" were shot. The hotel dates back to the 4th century and contains a labyrinth of tunnels and rooms that were dug under the Tunisian desert. This charming property offers a gourmet restaurant, a lounge bar, a swimming pool, and a panoramic terrace with views that will get forever etched in your memory.
10. Iconic Santorini, Greece
Iconic Santorini is located in the scenic village of Imerovigli in Greece. The hotel offers an infinity pool with a striking view of the volcano and the caldera that you seriously have to see to believe. The cave-sheltered rooms, patios, and terraces seem to tumble down the cliffside of the village. In fact, the resort is carved right out of Santorini's volcanic caldera wall. A deluxe room will set you back about $650 and up per night while the cost of a cave suite is a whopping $1,400 and up per night. Start saving every penny!
11. Grand Canyon Caverns Suite, USA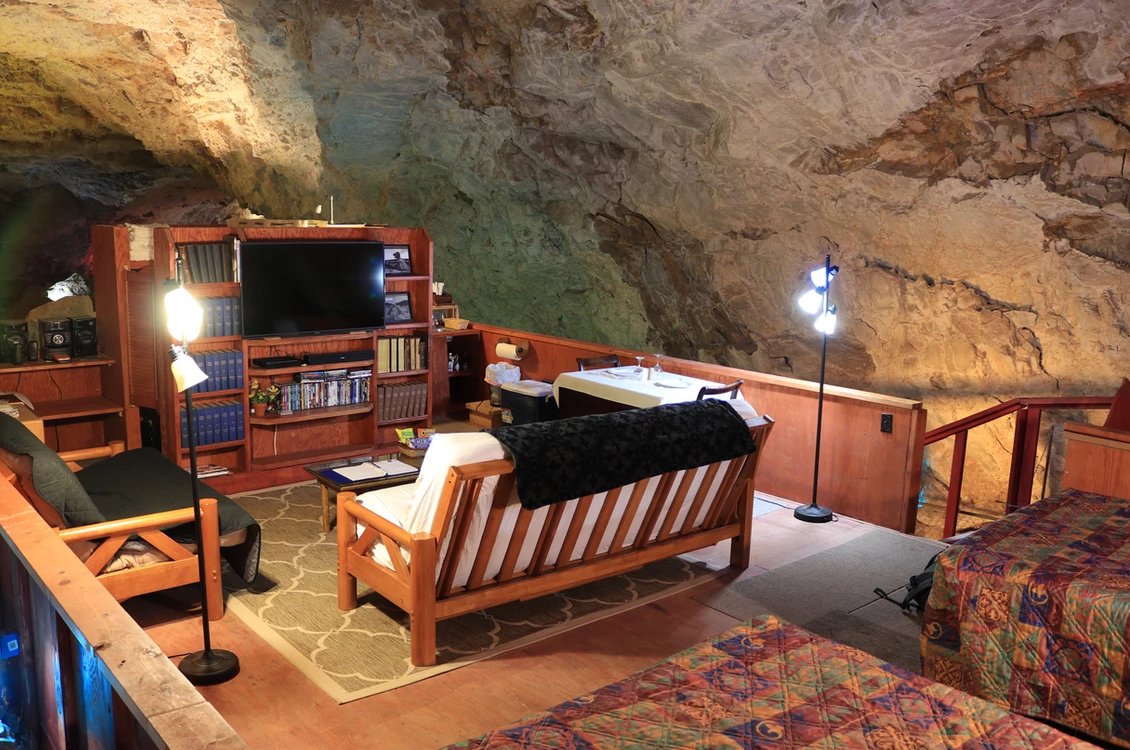 Grand Canyon Caverns Suite in Peach Springs, Arizona, is home to the Underground Cave Suite, which is one of the largest, oldest, deepest, darkest, and quietest cave hotels on the planet. It's located 220 feet below ground, and the cavern walls are over 65 million years old. So deep that there's no natural light inside.
Also, it's so dry that you won't find any critters flying around, not even a bat or a mouse. That's because the limestone gets rid of moisture. There are plenty of rooms above ground, but this one, in particular, is worth it if you're looking for some peace and quiet. The price varies depending on the season, so make sure to keep an eye on their site.
12. Sala Silver Mine, Sweden
The Sala Silver Mine in Sala, Sweden, is a former silver mine that's been converted into a bed and breakfast with an epic underground room that's 155 meters below the surface and includes a four-hour guided mine tour to the underground lakes and a visit to the museum. The room is candlelit to give it that extra feel of authenticity so don't expect any electricity or cell phone reception down there. The average rate per night is about $480 and up and includes the cost of the tour. But make sure to check out the site as prices vary depending on the season.
What are other amazing cave hotels to stay at?