9 Tips to Have the Best Vacation in New Orleans
I recently visited New Orleans for the billionth time over the July 4th weekend. As always, I had a wonderful time, which is no surprise. New Orleans is my favorite U.S. city and I make it a point to visit a few times a year. Yes, I love it that much! It's the music, the food, the architecture, the locals, and the atmosphere that draws my soul to this Southern city every year.
With so many trips to New Orleans, I like to consider myself a bit of an expert on visiting the city. It pains my heart then to see first time visitors of New Orleans make the most simple mistakes when visiting the Big Easy. Mistakes that make your trip just a little bit less than what it could be. So to help my fellow travel ladies out, I put together 9 tips to help you have the best vacation in NOLA.
9 Tips to Have The Best Vacation in New Orleans, LA
---
1. Don't stay on Bourbon

Let's be clear, New Orleans is far more than Bourbon Street. But I get it, and if you visit New Orleans, you do have to make an appearance on the infamous street at least once. Now, just because you want to visit Bourbon Street, does not mean you should stay there. Quite the contrary. Hotels on Bourbon Street may be convenient, but guests suffer from loud noise into the early hours due to year round party goers and thin walls of the historic hotels. These hotels are also quite often overpriced, have few amenities, smaller rooms, and little to no parking.
So if you want to stay in the French Quarter…
Check out Hotel Villa Convento on Ursuline Avenue. It's in the French Quarter but removed from the bothersome noise. It sits on the edge of the French Quarter in an area that sees less foot traffic. The rooms are cozy and historic and the hotel offers parking. Be sure to book a room with a balcony! It's also rumored to be the legendary House of The Rising Sun. And even though it's supposedly haunted, the ghosts have been rumored to only bother men…cool, right?
But if you'd like something a bit luxurious and modern, and still close to the French Quarter….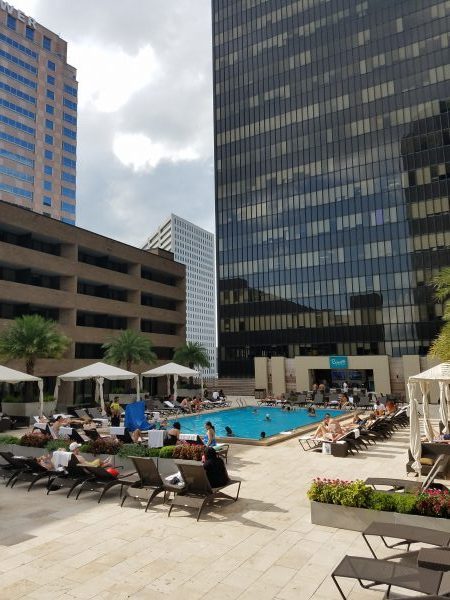 I suggest the Hyatt Regency New Orleans, located across from the Super Dome in the Central Business District, just a 15 minute walk to the French Quarter. It reopened in 2011 with a brand new design throughout. This Hyatt is home to a rooftop pool, a gym with fantastic city views, Starbucks, and multiple bars and restaurants. I had dinner at the on-site Borgne, a fantastic seafood restaurant with a huge selection of craft beers. Did I mention that lots of celebrities and athletes stay here? Especially those that perform at the Super Dome or are filming on-site or in the area.
2. Go in the off season
If you want a great experience in New Orleans, I would highly suggest that you visit in the off season. Festivals like Jazz Fest, Mardi Gras, and Essence Festival are wonderful and fun, but they raise the prices throughout the city and make it difficult to book tours or eat at the most popular restaurants. My last visit was during the Essence Festival and it was impossible to get a beignet at Cafe Du Monde (the line was insanely long every day).
Additionally, I wouldn't suggest visiting in the summer. Not only is it hot, but it's humid, and it's crowded with families visiting during school break. Winter is a fabulous time to visit New Orleans because the weather is wonderful, it's not raining (as it does during hurricane season), and the crowds are manageable.
3. Frenchmen is better
As you could tell, I don't very much like Bourbon Street. That's because Frenchmen Street is way better. It's just a few blocks east of the French Quarter, and like Bourbon Street, it's a street of restaurants, bars, and clubs. However, it's a lot less crowded and booze-infested than Bourbon. Here is where you'll find the famous Jazz Music that NOLA is known for. Bands abound in the bars and clubs, and there's more locals partying here with a good mix of tourists who know how to have fun — without overdoing it. Late night food on Frenchmen Street is best had at Dat Dog — try the gator hot dog! There's also a night farmer's market that's a must for any visit with local artisan products, clothes, accessories, and art for sale.
4. Cajun/ Creole food beyond the French Quarter
I love Cajun and Creole food, but sometimes, the restaurants in the French Quarter become too commercialized and lose the beautiful flavors in favor of quick, easy preparation for the hordes of tourists. So my advice is to go beyond the French Quarter to try Cajun and Creole food.
Check out Jacques-Imo's on Oak Street. Visitors sometimes wait for hours to be seated in this small hole in the wall type of restaurant. Crabmeat Stuffed Shrimp, Paneed Rabbit, Jambalaya, Boudin Balls, Fried Green Tomatoes, and Shrimp and Alligator Sausage Cheesecake — my mouth is watering just thinking about it!
A short walk down the street is a newcomer on the New Orleans scene but a great option for upscale Cajun and Creole Food — DTB or Down the Bayou. Brunch is impressive enough with plates like Chicken and Biscuits and Crawfish Pie Benedict. During my visit, I had the Redfish on the Half Shell for dinner and tried the Cornmeal Gnocchi and Louisiana Rice Bowl are all perfect!
The Commander's Palace is also a fabulous choice with a buffet of Cajun and Creole favorites during their elegant jazz brunch and a great two-course special for lunch.
5. Explore other neighborhoods
Like with Cajun and Creole food, New Orleans has a lot to offer in different neighborhoods throughout the city. The Garden District is home to beautiful antebellum homes, great restaurants, and the popular shopping and dining destination of Magazine Street. Oak Street in the Uptown neighborhood is home to cute coffee shops, restaurants, stores, and bars. The Bywater neighborhood is an eclectic mix of artistic stores, thrift stores, galleries, and cafes. Be sure to visit Bachannal Wine and Crescent Park! And we can't forget the Treme,  it's a historic neighborhood and the top destination for African American and Creole culture in the city. Tours and museums are available here.
6. Take a bayou tour 
If you are in New Orleans, take a bayou tour…period. The bayous are fascinating and beautiful places that are not found in many parts of the U.S. I've taken regular boat tours through the bayous, however, I have to say that during my last trip to NOLA, I took an airboat tour with Airboat Adventures and I had the time of my life. Airboats go fast and with a six-person airboat, it's easier to go through narrow parts of the bayou and the swamp, places that other boats cannot. We learned a lot about the ecological system, history, people, and the alligators of the bayou on my tour.
7. Creepy is cool in New Orleans
New Orleans is a magical place with what some might call "creepy" aspects. Cemeteries are one of the top must-visit destinations in the city, something that doesn't occur most often in other places in the world. (But once you see them there's no doubt why). The city is also home to ghost stories, voodoo, magic, and myths of vampires and pirates and legends. I love this about New Orleans and every year I try to see a ghost but sadly it hasn't happened.
However, I wholeheartedly suggest that you get into the "creepiness" of the city. Stay at a haunted hotel like Hotel Monteleone. Take a ghost, vampire, voodoo, and/or cemetery tour. Learn about the voodoo culture at the Voodoo Historical Museum. Find a palm reader or a tarot card reader and have your fortune told. Eli at Hex: Old World Witchery is my favorite! Dive into the creepiness of New Orleans; trust me, it's fun.
8. Be picky with tour guides
I like to go on tours in New Orleans and I've experienced many tours with different tour companies in the city over the years. Generally, I have a great experience and learn something new on each tour, but unfortunately, I didn't have the best haunted tour guide on my last visit and that was a shame. I won't name the tour company, but it was a good reminder for me and for you to do a lot of research on tour guides before choosing a tour company. Look at TripAdvisor reviews for suggestions and try to book a tour with a specific guide.
9. Be fashionable, but smart
Last, but not least, travel fashion! I remember the first few times I visited New Orleans I totally failed on the fashion side of things. My bag was packed with cute clothes, flat sandals, and wedges, items that I would normally wear anywhere else in the U.S. However, New Orleans is a bit different and your fashion choices should reflect the city you're visiting.
Bring comfortable shoes. The French Quarter is filled with cobblestone streets, many of which are dirty from party goers and tourists. Flat open-toe sandals and wedges are not your friend here. You will break an ankle or have filthy (and aching) feet by the end of the day. I also wouldn't advise white or cream shoes as I've had to scrub black who-knows-what off of my shoes many a-times after an evening in the French Quarter (like this last trip! #LessonLearned).
Yes, I understand that you want to be cute, sexy, or beautiful on vacation, but New Orleans is a pretty laid-back city. Unless you're going to a five-star restaurant, you don't really have to dress up to go into the bars or clubs here. Jeans, shorts, summer dresses, casual tops — they're all acceptable in most places.
And if you can only go during the summer, go for lightweight fabrics. Find something breezy as the humidity is no joke in New Orleans. Rompers and boho-inspired items are perfect for NOLA!