Best Beaches on the Florida Gulf Coast
Beach vacations on the sunny shores of Florida's Gulf Coast are calmer, quieter, and perfect for those looking for a tranquil escape. The Gulf Coast beaches have powdery ivory sands and crystal clear turquoise water that will have you thinking you landed in heaven on earth. Whether you are looking to be surrounded by nature or want to play on jet skies or parasail, you'll find it on the shores of the Gulf Coast of Florida. Use this guide to the best beaches on the Florida Gulf Coast to choose the perfect beach destination for you. 
Best Beaches on the Florida Gulf Coast
Siesta Key – Sarasota
Siesta Key has been voted one of the 'best beaches in the United States time and time again. You'll understand why as soon as you set foot on the sugary white sands and take in the crystalline shoreline. The beach is 8 miles of paradise, perfect for strolling or sunbathing. Families love this beach for the shallow calm waters and the quartz sand perfect for building sandcastles. There's also a lifeguard on duty at this beach for your family's safety. Try snorkeling in these gin clear waters or kayaking near Turtle Beach. 
Pensacola Beach
The breathtaking emerald green waters of Florida's Pensacola Beach will leave you awestruck. The soft white sandy shores span 8 miles and the entire beach is surrounded by Gulf Islands National Seashore. This protected area is beautiful and has an abundance of wildlife including turtles, stingrays, and seabirds. There are 2 massive sandbars offshore making the waters here calm and tranquil. Try paddle boarding or swimming in the gorgeous green waters. 
Henderson Beach – Destin
Destin is a charming Gulf Coast gem that is packed with powdery white sand beaches and is known as the 'World's Luckiest Fishing Village,' the fishing here is epic. Try your hand at reeling in one of the native red snappers, bluefin tuna, or tarpon. For the best beaches head to Henderson Beach State Park where you'll find towering sand dunes, some are as tall as 30 feet! This Gulf Coast beach also features dazzling white sands against an emerald green coastline.
There is a fee of $6 per vehicle to enter this gorgeous state park. Hike a nature trail and keep your eyes peeled for turtles, dolphins, and birds. Bonus: thanks to being made of quartz the sand at the beaches in Destin never gets too hot!
Panama City Beach
At Panama City Beach you'll discover 27 miles of shimmering white sand beaches and tons of family-friendly attractions, making it one of the best beaches on the Florida Gulf Coast for families. Although this beach is famous for its crazy Spring Break reputation, don't let that stop you from visiting. Panama City Beach is perfect for sunbathing and relaxing on incredibly soft quartz sand. Or for some family fun, play a game of volleyball or swim in the clear Gulf Coast waters. 
Clearwater Beach
This coastline in Clearwater is known as one of the best family beaches in Florida. You'll find this idyllic beach perfect thanks to the gorgeous emerald waves that lap up on the powdery quartz shoreline. The waters here are calm and shallow making them perfect for the whole family to splash in. Lifeguards are on duty year-round making Clearwater Beach a great destination at any time of the year. Kids will enjoy the playground, while adults can take a relaxing stroll along the Beachwalk. Head to Pier 60 to spot some dolphins or check out the Clearwater Aquarium with the family.
Fort Myers Beach
This Gulf Coast beach is the perfect combination of beach paradise that meets historical landmarks and family-friendly attractions. You won't find a lack of things to do at Fort Myers Beach, between the shops, restaurants, and activities on one side and the emerald coast on the other. Try snorkeling, parasailing, or kayaking along the coastline. Or find shells along the sugary ivory sands of this beautiful beach. Nature lovers will enjoy Calusa Nature Center and Planetarium where you can spot bald eagles, hawks, and owls. 
Venice Beach – Sarasota
This picturesque beach is known for being the shark tooth capital of the world! Try your hand at spotting shark teeth along the dazzling white sands of Venice Beach. Just a heads up, the best place to find them is on the Venice Jetty. You can also enjoy plenty of watersports including fishing and boating. This beach is pristine thanks to being maintained by the Clean Beaches Coalition. Turtles are also known to nest in the area between May and October.
Naples Beach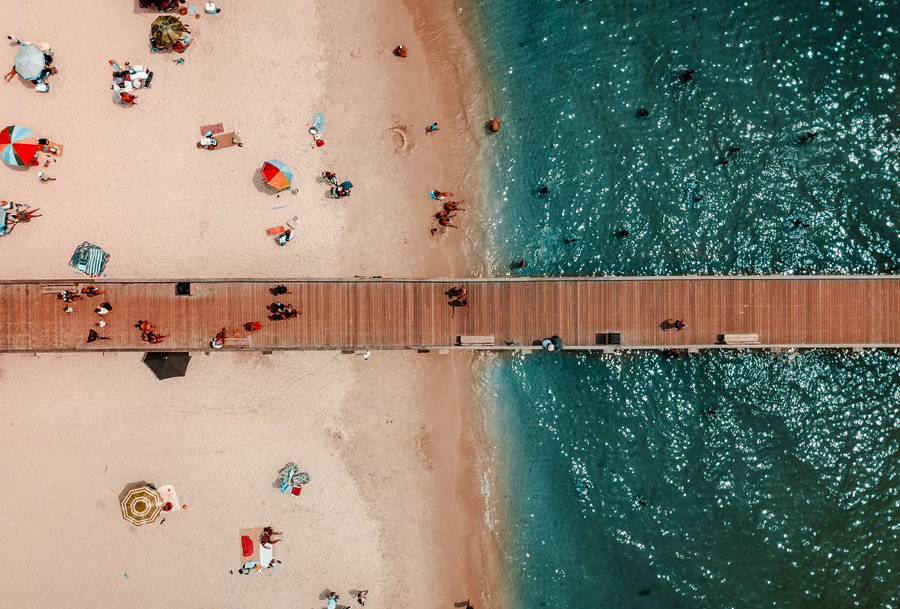 The elegant city of Naples, Florida is known for its glamor and swanky restaurants and bars. If you're looking for a quiet and stylish beach on the Gulf Coast, then Naples Beach is the spot for you. The beaches in Naples are incredibly clean and relatively quiet compared to most regions of the Florida coastline. Try snorkeling, paddle boarding, or kayaking in the calm waters. Anglers will enjoy fishing off of Naples Pier for their chance at reeling in a big one! 
St. Pete Beach
St. Pete Beach is a picturesque barrier island just west of St. Petersburg, Florida. This is the home of the longest stretch of undeveloped beach in Pinellas County, Pass-Grille Beach. The sugary white sands coupled with the gorgeous clear water present great opportunities for enjoying watersports. Indulge in an adventure with kiteboarding, windsurfing, or paddle boarding. Relax on the beach and sunbathe or collect shells. If you're interested in amenities, this beach is lined with world-class resorts. It also has a wide variety of galleries, restaurants, and funky shops. 
Marco Island
Marco Island is a gorgeous barrier island off the Gulf Coast of Florida. There are 2 beautiful scenic beaches with soft dazzling white sand, these beaches include South Marco Beach which is a small slice of paradise. You'll notice the tropical island vibes as you enter the palm-lined shores. Tigertail Beach Park is a soft white sand beach ideal for beachcombing, tide pooling, and bird watching. Both beaches are family-friendly and Tigertail is known for its epic technicolor sunsets. 
Anna Maria Beach
Anna Maria Beach is a small barrier island on Florida's Gulf Coast. The 7-mile stretch of beautiful ivory sand beaches is flanked by the warm crystal waters of the Gulf of Mexico. You'll find Anna Maria Beach on the northern tip of the island. If you're looking for seclusion and tranquility then this beach is perfect for you. Anna Maria Beach is expansive and not at all crowded, making you feel like you have the beach all to yourself. Keep in mind there are no amenities available here. The quaint nearby towns have old-world Florida charm, as well as restaurants and shops. 
Navarre Beach
Navarre Beach is surrounded by the Gulf Islands National Seashore and offers amazingly soft ivory sands and gorgeous emerald waters that will make you never want to leave. The fascinating wildlife will have you searching the shores and skies during your visit. Navarre Beach is also home to the largest fishing pier on the Gulf Coast at an impressive 1,545 feet long. There is a small $7 fee to walk the pier but it provides unparalleled views and a chance to fish. Of course, you can also relax and sunbathe on the lush sands, play volleyball or walk the stunning dunes.
No matter which of these beaches on the Florida Gulf Coast you choose, you will be treated to soft ivory sands, beautiful emerald waters, and wonderful natural beauty. You really can't go wrong! 
MORE FLORIDA GUIDES
5 Things To Do In Jacksonville, Florida
The Complete Vacationers Travel Guide To Islamorada, Florida (The Florida Keys)