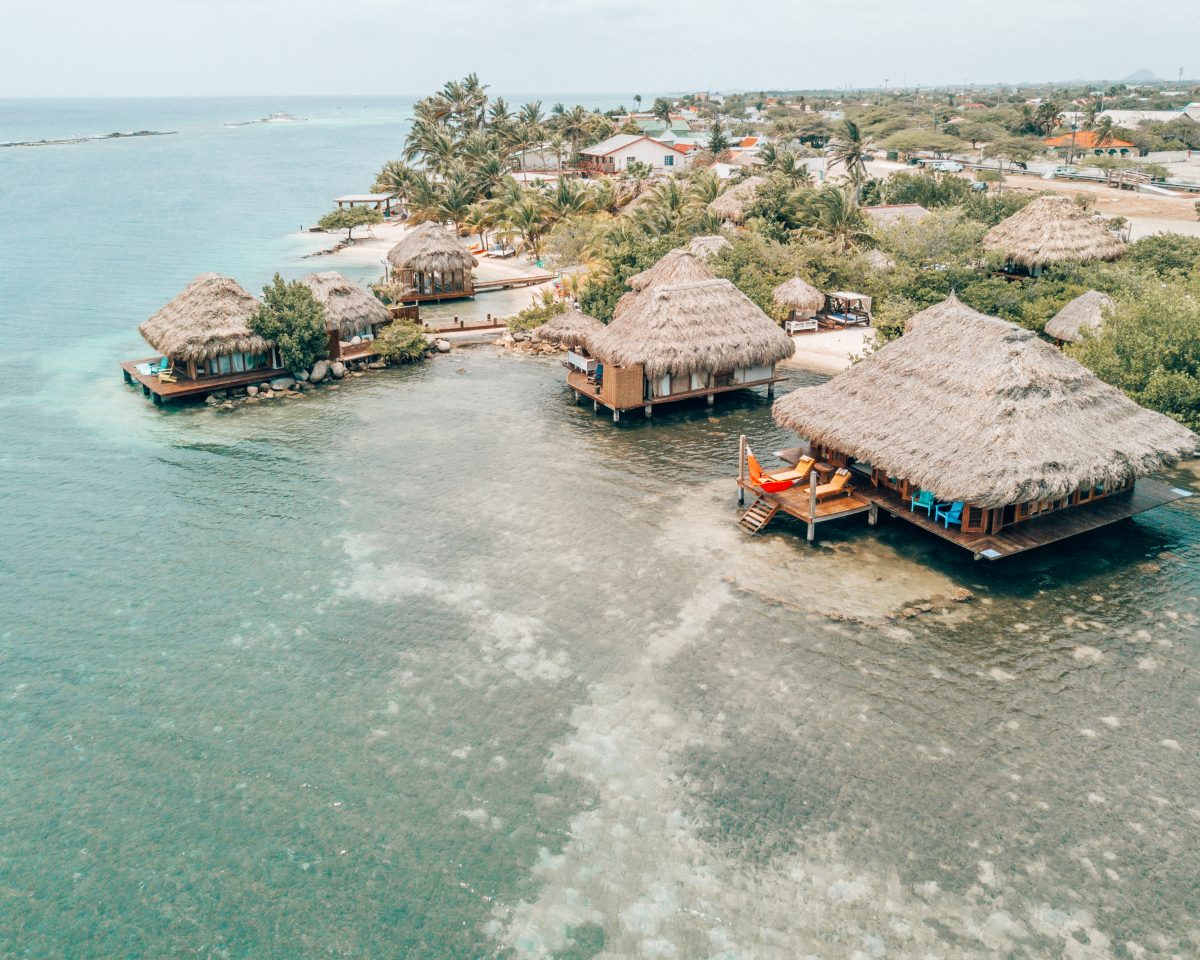 The Ultimate Travel Guide to Aruba – One Happy Island
I took a spontaneous vacation to the island of Aruba with a friend in 2015 and wow it was gorgeous! Aruba has a ton of things to explore and do although I spent most of my time relaxing in the sun working on my tan. (SPF 30+ recommended) Aruba is a bloggers paradise with all the bright colored walls everywhere and picture-perfect beaches.
Knowing how amazing Aruba is, I took my husband back to Aruba for our babymoon this year since he had never been. We visited Curacao first and then hopped on a $90 puddle jumper flight to Aruba. Which I'd highly recommend doing. And while you're at it, might as well hit up Bonaire too!
I was so excited to share all my favorite spots with him and create some new memories exploring Aruba finding new favorites too! So I decided to update my ultimate travel guide for y'all with all the new musts for your next trip to Aruba.
In this post, I'm going to answer all of your questions when it comes to booking a vacation to Aruba!
You're definitely going to want to add Aruba to your bucket list!
---
Transportation

Wonder how to get around in Aruba? It's super stress-free getting from the airport to your hotel – I did it by myself. There is a taxi line right outside baggage claim and they speak English. I got in a nice air-conditioned Honda playing some Spanish jams and it was only a $25 taxi (flat rate) to my hotel. Boom Hello Aruba I have arrived! The main roads are paved and you're surrounded by gorgeous palm trees and huge 10-25 foot cacti! They are incredible! You can get just about anywhere on the island for a $10-20 taxi ride. Just know that you can't hail a taxi off the side of the street, you'll have to call ahead or go to the front of your hotel.
They also have bikes you can hop on to get around as well as public transportation. Several public buses have a stop at the airport and you can take any of these buses in the direction of Oranjestad. At the bus station, you can switch to bus line 10 which will take you to the low and high rise hotels.  The fee for the public bus is $2.30 per bus ride.
If you're planning on exploring all the beaches and the entire island though I'd suggest renting a car. (Head to my sidebar for direct links to rental car companies.)
Airport Tips
I also need to mention the Aruba airport here which is Reina Beatrix International Airport. It receives over 150 flights per week from various cities in the USA, Canada, several countries in South America, the Netherlands, England and other Caribbean islands. Flying in is super easy and fast but flying out is another story and you'll miss your flight if you don't know this and plan ahead!
Check-in time for all flights to the United States is three hours before departure and even then I would recommend checking in online first to avoid the lines. Only packing a carry on helps as well so you save time not checking a bag. Once you check-in and get through security do not stop for food. You're not done. Keep going and get in the customs line which can take anywhere from 30 minutes to over an hour. Aruba has US pre-clearance for all passengers traveling to the United States. This means that you will go through passport control in Aruba at the U.S. Customs & Border Protection facility. On the bright side, once you're back in the US you don't have that hassle.
I recommend packing a carry on only when you visit Aruba otherwise you'll have to keep getting your baggage for security etc. and it's just annoying. Pack light so you can carry less. Once you get through customs you have to go through security again. This entire process eats up a lot of time so definitely get to the airport early!
---
Where To Stay
My first trip to Aruba we stayed at the Aruba Marriott Resort & Stellaris Casino on Palm Beach. The rooms were nice with a large bathroom, balcony, and small kitchenette area.  There was a fitness center, on-site casino, restaurants, beach restaurants, hair braiding on site, bars on site, activity rentals, float rentals, smoothie bar, and a market and retail store that was super convenient. It was a perfect resort for families because there was a lazy river, kid-friendly play area, slide, waterfall, and so many activities. Believe me, my friend and I took a few turns on the slide, went under the waterfall, and rode the lazy river with a mudslide in hand every single day. lol There was also an adult only pool, swim up pool bar and activity pool, and a separate kid-friendly pool which is perfect for me!  This place was huge!
There are a ton of hotels along Palm Beach so you can stay anywhere along that beach and you'll be set! Check google maps to get an idea of location.
I'd also recommend trying to book a stay at Renaissance Aruba Resort & Casino for a great central location and easy access to their private beach Renaissance Island which is home to the famous Flamingo Beach! They book up months in advance so get on that ahead of time.
On my most recent trip with the hubs we wanted something a bit more luxury and secluded since we were celebrating our babymoon. We choose to stay at
Aruba Ocean Villas
in one of their incredible overwater bungalows. The property just so happened to be next to my two favorite restaurants so it worked out perfectly. Plus the property itself is extremely relaxing, not to mention the open air bungalows give you an all-day Aruba breeze and an amazing view of the ocean right from your bedroom! I could just get lost swinging in the hammock all day with a fresh pineapple juice in my hand.
---
How To Choose A Hotel In Aruba
There are a lot of options when it comes to hotels in Aruba. The way I differentiate is by location to main attractions, is it family friendly or private and secluded, luxury or budget-friendly, is it in close proximity to the airport, is it on the beach, and amenities offered.
A great way to start is to head to Google and search 'hotels in Aruba'. It'll pull up a map so you can narrow your search by location, dates, budget, luxury, amenities etc. You can tell where the popular spots are by how many hotels are in one location. Palm Beach is a hot spot and centrally located to a lot of things. You can tell most everything is located North of the airport.
---
Aruba on a budget
Luckily it's super easy to visit Aruba on a budget. The hotels are super affordable, averaging mid $200's a night for beach front. There are even some rooms for under $100 a night! Eagle Aruba Resort & Casino looks like a great affordable option! If you're traveling with a big group you can opt for a house or
airbnb
. There are quite a few chain hotels for those of you that travel using points. This is a great place to use those Marriott, Hilton, or credit card points!
On that little Google tool I showed you above, just make sure to select budget instead of luxury.
---
Pro Tip: I know sometimes a good deal is irresistible but keep your safety in mind. If you see a hotel or room in the middle of nowhere for $30 sometimes it's just too good to be true. I try to stick to populated areas close to main attractions, with safe properties, and amenities on site just in case so I don't have to walk around at night in search of food. Safety first.
---
Where to Eat + Drink
Get ready for fresh seafood, tropical cocktails, frozen drinks, healthy juices, walk up beach bars, and oceanfront dining. Aruba has it all. There is no shortage of delicious food on the island so you won't go hungry.
I highly recommend eating dinner at Madame Janette's.  It's a tad pricey but its well known as the best food on the island.  Craving a good beach vibe, have lunch on the Pelican Pier or Bugaloe Beach Bar on the ocean! There is just something so refreshing and relaxing about eating on the water!  You can walk along the beach from your hotel in Palm Beach to get to either of these Piers.  The Pelican Pier had a special on their live lobster and Bugaloe seemed to have more of a crowd and was teaching free salsa lessons when we arrived. Some restaurants on the beach have quite a few little iguana friends wandering around and you'll see tons of iguanas all over the island but don't worry they don't bite!
Obviously, if you're here to relax, the resort where you're staying is a good go-to for snacks and food.  You know there is usually always a swim up bar.  Drink all the frozen drinks! Mmmmm… mudslides are so good but I recommend trying them all.
For a one of a kind experience head to Flying Fishbone. It's a must! Think fancy dinner, white tablecloths but totally worth it because you can eat in the water! Yes, with your feet in the water! They give you a little shoe holder to hang your flip flops on and you get to relax and eat literally in the ocean. Besides the incredible ambiance, the food is to die for. It's delicious. Mike and I ate there probably 3 nights because it's just that good! We lucked out and got seated in the water around 8pm with no reservation but because of the popularity, I'd highly recommend making a reservation. I always get the catch of the day because it's guaranteed fresh but I tried the snapper here since it's my favorite. Flying Fishbone also had my most favorite dessert, Creme Brulee, and it couldn't have been better!

A few other places to try are Local Store Aruba, Passions on the Beach, Eduardo's Beach Shack, Diana's Pancakes Place, and The Old Cunucu House for Keeshi Yena (the most famous Aruban dish).  We were also told that the local food trucks are good just be prepared to wait 20 minutes but it's worth it. The Old Fisherman, Coco Plum, and Kowloon (Aruban twist on Chinese) are all good options as well!
Another must is Zeerovers for the freshest seafood on the island. Literally. You wait in line, probably around 30 minutes, get up to the counter and you can choose from fresh fish or shrimp and they weigh it right in front of you. You pay, they give you a number and take your fresh seafood over to the fryer to cook, and then serve it to you with fries and a side. One thing to note is that it's cash only so be prepared. Grab a table on the dock by the water and a bev from the bar while you wait. The line is long usually but it's totally worth it. Plus, even though the line is long, once you place your order your food comes out super quick! For dessert make sure to grab some coconut ice cream in a coconut shell!
---
What To Do
My top recommendations would include visiting Flamingo Beach on Renaissance Private Island.  It's definitely a must for a one of a kind experience. It used to be a hidden gem back in 2015 not many seemed to know about but thanks to Instagram, their luxury upgrades like private cabanas, and the increasing popularity, it's a must on so many peoples bucket list.
You can also do a number of water activities like snorkeling, paddle boarding, or take a boat ride or day tour. Head to The Aruba Natural Pool, also known as "conchi" or "Cura di Tortuga, the Natural Bridge, Gold Mill Ruins, or do a little shopping at The Royal Plaza Mall where you'll find the prettiest of pink colors among some amazing Dutch architecture! Oh and don't forget to stop by a casino to play roulette ($20 on black). I walked out with a quick $40 winnings! Whoop!
Make sure to visit one of the most famous white sand beaches in the Caribbean, Eagle Beach! There are actually so many beaches to check out in Aruba you won't get bored. You can also visit the Aruba Aloe Factory, take a trail ride on horseback to the beach, check out the Donkey Sanctuary or the Ostrich Farm, or head to the end of the island to view the California Lighthouse.
---
How many days should you spend in Aruba?
If you're planning a vacation to Aruba I would highly recommend adding Curacao and Bonaire to your trip. They're just too close and too beautiful to miss out on for less than $100 puddle jumper flight between islands.
I know people like to vacation for 5-7 days but you can really tackle Aruba in about 3 days. It's so close to the US you can even make it a long weekend trip. It's the perfect escape when you need a quick vacation.
---
Best Time To Visit Aruba
Because the weather is consistently warm year-round with a fairly constant temperature of 82°F (28°C) there is no real 'best time to visit'.
To me, the best time to visit Aruba is from April to August because it's a huge window of time when the island's high prices take a holiday. And since the island sits well outside the hurricane belt, there's very little threat of tropical storms at this time. January to March also has pleasant weather, but the room prices can soar.
High Season: mid-December until mid-April
Low Season: mid-April until mid-December
I went in mid-April and it was perfect. The island wasn't too crowded and the weather was great! I try to travel during the weekdays as well to avoid the crowds and get better hotel deals. Obviously, Friday and Sunday are big check in check out days so avoid those if possible.
You could also plan your vacation around one of the many events Aruba hosts. During the year several musical events are organized and a popular time to visit Aruba is during Carnival Season. Carnival takes place between January and March and features weeks of festivities, big parades, contests all accompanied by lots of music and dancing.
More information about events and more about Aruba's Carnival here.
---
It was really hard to say goodbye to such an amazing vacation!  I definitely recommend adding Aruba to your bucket list!  I miss it already.
Have y'all been to Aruba or are planning a trip?  Would love to know more!  What did you think?  What are you excited to do?
Remember to PIN this post for later!
Read Next