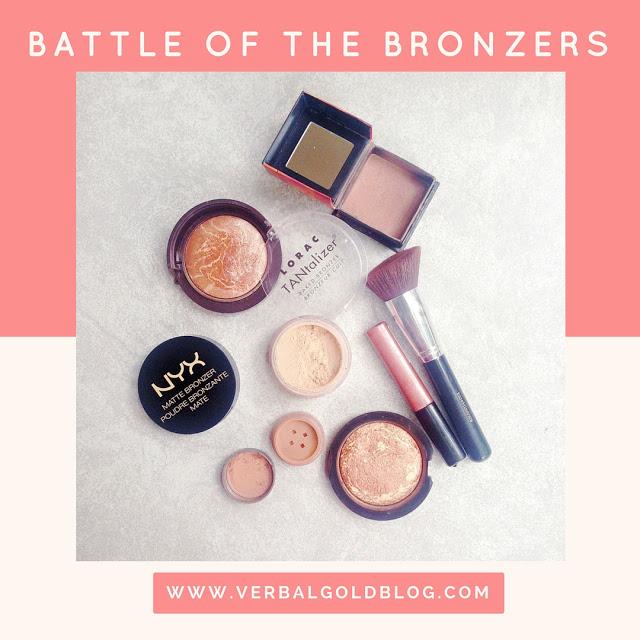 Battle of the Bronzers
Who else is loving this warmer weather and sunnier days?! Definitely has me ready to move my Summer wardrobe out of the back of the closet and bust out my rompers, dresses and shorts in bright colors I've been missing. But if you're like me and haven't been able to get any color from the sun yet and want to avoid looking washed out, you will definitely be reaching for my favorite product: Bronzer.
Being fair skinned and incapable of being in the sun without turning bright red, I've tried my fair share of bronzers. So for me, bronzer is everything. I like to find one I love and use it all over my face; contouring, bronzing, wetting an eye shadow brush and applying to the outer crease of my eyes for an all over bronzy look and even applying to my collar bones and jaw line for extra glow. Finding the right bronzer for every skin type can be tricky. For people with oily skin like myself, bronzers with too much shimmer can look shiny, artificial and orange after just a few hours. For people with dryer skin, matte bronzers can look dull and cakey if they dont have any shimmer at all. There are thousands of different bronzers to chose from but ultimately they come down to two categories: Matte or Shimmer.
I'll be the first to admit, I have definitely been guilty of over bronzing (Que college pictures with overly flat ironed hair and a shiny orange face). There is definitely a fine line between having a nice glow and looking like someone who escaped from the Wonka Factory. Finding that balance between a matte and shimmer bronze has always been a challenge for me, so for this beauty haul I wanted to give a matte bronzer another try as I am currently feeling my shimmer bronzer has become too much and I'm bordering on disco ball face again.
If you saw my most recent post about Highlighting and contouring you know there is rarely a day I go out without doing some type of contouring to my face. Of course my every day makeup isn't as much as my going out or special occasion contouring, but I find just a few swipes of color in the right spots create the shape and angles I prefer.
If you saw my current beauty haul the matte product I chose was Dallas by Benefit. I've never tried any of Benefit's blush or bronzers, but when I was in Sephora testing products I chose Dallas based on color and pigmentation. I've used matte bronzers before that weren't very pigmented and it seemed I had to apply over and over again to see any color which created a muddy flat look. This has been my overall struggle with matte bronzers and why I typically am drawn more towards a shimmer bronzer. But as I typically do, I wanted to see if the grass was greener (or less orange) on the other side of the makeup fence and try something new! For this reason I chose to do a head to head bronzer battle comparing matte and shimmer bronzers to see once and for all which one I preferred.
For this head to head battle, I'll be comparing Benefit Dalls to Lorac Golden Glow TANtalizer Baked Bronzer
First, these products could not be more different. The Benefit is very matte while the Lorac is very golden and shimmery. I liked how smooth the Benefit bronzer went on without looking too dark or cakey as many matte products can do. But because it has no shimmer, it lacks that glowing affect I have come to love from bronzers. If anything, I could see using this to contour my cheeks and using the Lorac bronzer on my forehead and jaw to create that glowing bronzed look. The Lorac bronzer has a lot of shimmer, which can look too shiny if over applied or over time on a more oil prone face like mine, but applied in moderation it creates a pretty glowing bronzed look that can help you fake it until the warmer months come along for those who are able to tan without frying (sigh).
I love using bronzer to contour, but finding the right one has consisted of years of trial and error to find that perfect contour and glow. While I like both, I do feel I have to use both to create the look I want. When I try to use just one or the other when rushing out the door, I always end up adding on the other later (either because I look to shiny or too matte). Looks like the battle for top bronzer will continue to rage on until my next beauty haul.

Matte or shimmer bronzer, which do you prefer? Do you have a favorite bronzer?