20 Insanely Dope Pictures to Inspire You to Visit Spain
This Summer I spent 17 days backpacking across Spain, and saying it was amazing and life changing would be an understatement. I had such an amazing time and spent the entire trip completely in awe of every city we visited. I'll be doing a city guide of all the towns we visited.  First, I wanted to share my top favorite pictures from the trip. Picking only 20 pictures was extremely challenging, but I'll be featuring more pictures in my individual city posts. So without further ado…….
20 photos that will make you FOMO over Spain!
Plaza Mayor, Madrid
The largest square and city center of Madrid is definitely a must see! After walking around and taking in all the beauty and detail, make sure to venture a few streets over to the Mercado de San Miguel. This indoor market won't leave you hungry or disappointed!

Almudena Cathedral, Madrid
This cathedral is like no other I've ever seen! Probably because the design is very modern and was only completed in 1993. The mosaic ceiling and modern artwork are stunning. Located right across from the Palacio Real (Royal Palace) you can check off both then head for some tapas and sangria in La Latina!
Patio de los Naranjos, Mezquita, Cordoba
The exterior courtyard of the Mezquita, aka the great mosque of Cordoba, is full of orange trees and absolutely beautiful. Located between the bell tower and Mezquita, the courtyard is a great place to view the exteriors of the surrounding buildings before heading up the tower or into the Mezquita.
La Mezquita, Cordoba
Once the great Mosque of Cordoba, this building is absolutely stunning. When Cordoba returned to Christian rule, the Mosque was converted into a Roman Catholic church, so the building has aspects of both religions blended together and is truly a sight to behold.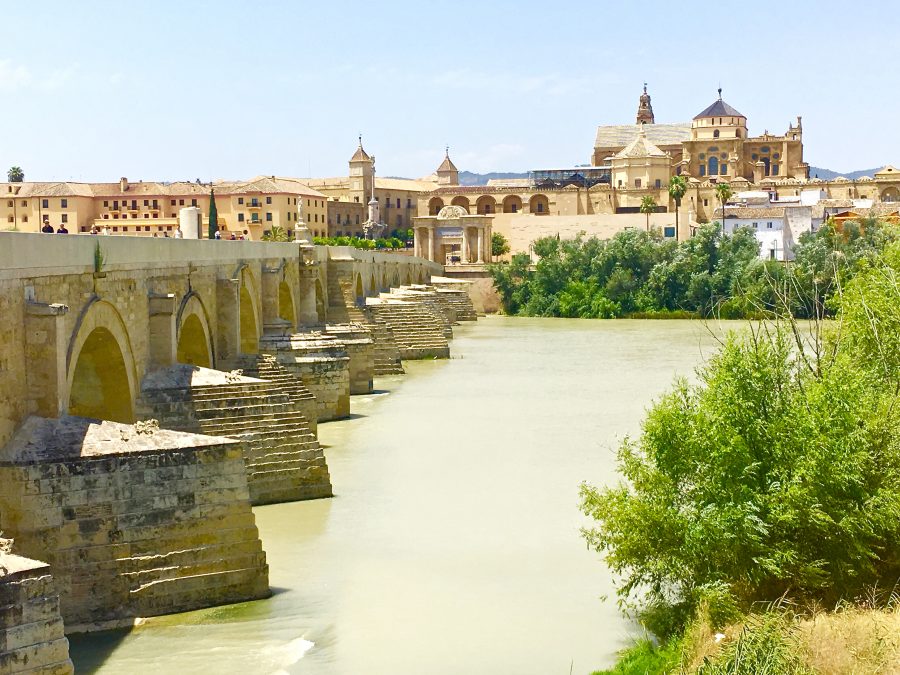 The Roman Bridge, Cordoba
The small, quiet town of Cordoba could not have been more different from our prior days in Madrid. The beautiful architecture and narrow windy streets were breathtaking and I completely fell in love with this quiet town on the water.
Alcazar de los Reyes Cristianos, Cordoba
This stunning Castle of the Christian Monarchs is definitely a must see for breathtaking views of Cordoba and the surrounding areas. Built in the 14th century, it once hosted Isabella and Ferdinand and is where they first met Christopher Columbus.
Gardens of Alcazar de los Reyes Cristianos, Cordoba
The exterior gardens of the Alcazar should not be missed, they are filled with gorgeous ponds, statues (including this one of Isabella and Ferdinand meeting Christopher Columbus) orange trees and extensive flowers. We went first thing in the morning and the gardens were so beautiful and peaceful!
Plaza de Espana, Seville
I don't think I could pick a favorite place we visited the whole time we were in Spain but Plaza de Espana would definitely be a top contender. With more tile detail and mosaics than your brain can possibly fathom.  It's truly a sight to behold.
Catedral de Seville
There's a legend that the builders of the Catedral de Santa Maria de la Sede wanted to construct a church so large, future generations would think they were mad. After 1oo years of labor, the world's largest Gothic cathedral is truly a magnificent sight. The ornate alter, breathtaking ceilings, and tomb of Christopher Columbus are definitely sights you won't soon forget.
Las Setas, Seville
Seville is one amazing city, not only does it have the largest Gothic cathedral, it also has the largest wooden structure, Las Setas "The Mushrooms". You can climb up into the structure and grab a drink or snack while you take in the breathtaking views of this stunning city.
Plaza del Carmen, Granada
Probably the best view we had from our hostel during our entire trip. Imagine sipping your coffee in the morning with this as your background! Granada was beautiful and we definitely had some of the best tapas during our trip while visiting here.
Patio de los Leones inside Alhambra, Granada
Outside and overlooking Granada stands the palace/fortress/World Heritage Site the Alhambra. This fortress is massive and stunning, I could go on and on about the architecture, grounds, etc, so just do yourself a favor and put this beauty at the top of your Spain to do list.
This is one of my favorite pictures from the entire trip. We were walking around for hours inside the Alhambra completely in awe, trying to take in everything around us (which is literally impossible). A guard stopped my friend and showed her this amazing stained glass ceiling that was completely undiscoverable. Without knowing to stop, bend down and look up into this small archway we never would have seen or discovered this beautiful stained glass piece that most people miss. This kind of became my theme for the rest of the trip, take the time to stop, look around, enjoy and let sink in all you can take in.
Generalife, Alhambra, Granada
The gardens of the Alhambra, the Generalife, were equally as beautiful inside this massive fortress.
Alhambra, Granada
After spending hours exploring the Alhambra we definitely needed a break and some tapas. We decided to head across to the beautiful San Nicolas area to enjoy the view of our days adventure before the sun went down. Can you believe there are people that get to enjoy this view every day?! Amazing is an understatement, but will have to do for now.
Park Guell, Barcelona
Everyone has their opinion of Barcelona, but I absolutely loved it! I could not get enough of Gaudi's mosaic work while we were there and Park Guell was definitely one of the highlights.
Sagrada Familia, Barcelona
Ok I have to take back my previous statement, I actually do know what my favorite place was, and it's hands down La Sagrada Familia! I feel like nothing can prepare you for how utterly breathtaking and amazing this creation is. I can pretty much guarantee, it's like nothing you have ever seen before. I'm pretty sure I walked around for hours with my jaw dropped and I didn't even care. With so much beautiful mosaic stained glass everywhere, depending on the time of day, different lights and colors filled the entire building and it was nothing short of spectacular.
Sagrada Familia, Barcelona
I think I took about 100 pictures just of the interior and exterior so I will definitely be showing more in my Barcelona city guide post! I didn't even care that my neck was killing me when we left because it was beyond worth it. Set to be finished by 2026, I'll definitely be coming back to see the finished product and am sure to fall in love all over again.
Park Montjuic, Barcelona
The hill and castle overlooking Barcelona are definitely worth the trip. I recommend taking the chairlift as you get to see additional amazing views on the ride up and down of Barcelona.
Museu Nacional d'Art de Catalunya, Barcelona
On our journey down from Park Montjuic, we walked past this amazing museum and fountains surrounding it. The views of Barcelona were amazing!  I could have spent hours here and been completely content taking in everything I could of this incredible city.
---
Hope you enjoyed some of my favorite pictures from traveling across Spain! If you've never visited I encourage you to put Spain at the top of your list; I guarantee you will love it and leave feeling inspired and in awe just like I did!
Read More: