Re-Purpose Your Halloween Pumpkins to Cook + 7 Easy Recipes
No need to throw them away – repurpose your Halloween pumpkins it into a tasty fall dessert/meal!
How to Repurpose Your Halloween Pumpkins
Here is how to bake your pumpkin so you can use it to cook! Check out our favorite recipes below!
Pumpkin(s)

Cutting Board

Pan

Aluminum Foil

Knife

Spoon

Oven
Pre-heat oven to 350 F.

Cut off stem, and cut pumpkin in half

Clean the pumpkin insides: If seeds and insides are still in there, scoop all of those out with a strong spoon or ice cream scoop. Set aside seeds for roasted pumpkin seeds! (See recipe below)

Bake the halves: Line a large pan with aluminum foil and place the pumpkin halves face down. Bake in oven for 1.5-2 hours (depends on how thick/big your pumpkins are)

Check pumpkins every so often to see if they are tender by sticking a fork in them. Once they're soft, they're ready to be cooked with!

Let cool & scrape off skin: Let cool for ~30 minutes, then take a spoon and start scraping the soft/inside of the pumpkin from the skin. Place into a bowl. You can throw away/compost the skin when done, you won't be needing them.

Mash cooked pumpkin in bowl, and it's ready to use for any of these recipes!
7 Easy Recipes to Use Your Cooked Pumpkin
Pumpkin Waffles: Recipe Here
(Use your mashed pumpkins instead of the puree)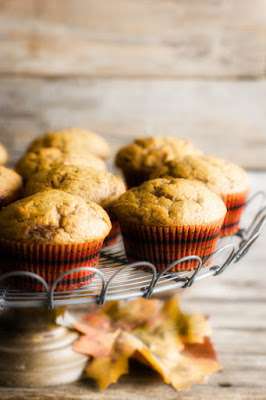 (Use your mashed pumpkins instead of the puree)
Classic Pumpkin Soup: Recipe Here
Roasted Pumpkin Seeds: Recipe Here
Pumpkin Oat Chocolate Chip Cookies: Recipe Here
(Use your mashed pumpkins instead of the puree)
Crock Pot Pumpkin Spiced Latte: Recipe Here
And Lastly, the Classic…
Skinny Pumpkin Pie: Recipe Here